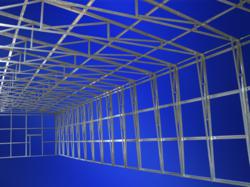 "Response time and accuracy are extremely important in any business,"
Terrell, TX (PRWEB) May 28, 2013
Absolute Steel, a Texas metal building manufacturer of tubular steel building kits, has launched a proprietary software system to service its customers and distributors with up-to-the-minute pricing information. The software, which is capable of taking into account constantly-shifting prices for building materials and components, is designed to provide fast and accurate service to the many homeowners, business owners, distributors, dealers and government entities that do business with the firm.
In planning and development for over a year, the program enables its customers both public and private to get near-instant pricing on steel building kits, metal garages, storage buildings, residential and commercial carports, RV covers, home kits, cabin kits, equestrian and other livestock shelters, and much more – all of the many structures Absolute Steel provides. Because of its ability to keep track of the many, many variables involved in pricing (from building size and style, to current steel prices, to the going rate for fasteners and metal paneling, to allowances for special needs such as heavy snow and wind stresses) prices quoted through the system are always up to the minute.
Dean Thomas, founder and CEO at Absolute Steel, explained more about the new pricing tool: "Software exists that provides these features for wood frame buildings and for I-beam steel buildings, but no one has ever created this kind of software for the tubular steel building industry—this is a first. This will enable us to better service our customers, which has always been our primary focus; that's what we strive for."
Another of the software's great benefits is in providing material lists for staff involved in manufacturing steel building kits, as well as those who package up completed kits for shipping. The software is capable of dealing with the irregularities of window and door placements, and with the subsequent variables these structural features present to the staff. It all means faster completion and shipping of each building, with far less chance of errors.
Though their major customers have traditionally been do-it-yourselfer homeowners, small businesses and government project engineers, with this new addition to their business infrastructure, Absolute Steel now plans to penetrate the home improvement chains in specific areas throughout the lower 48. The new system benefits these important customers too, with simpler, faster and more cost-effective pricing right at their fingertips.
Finally, the company's dealers, instead of spending time on cut sheets and material lists, can now focus on more direct consumer involvement and invest their time on the job site.
"Response time and accuracy are extremely important in any business," Mr. Thomas remarked. "But even more important is working closely with your customers, listening to them, understanding their needs, and giving them choices. We're very happy with this new tool – it makes it easier than ever to do every one of these things, for every one of our customers."
About Absolute Steel Texas: Founded in 2010 by steel manufacturer Absolute Steel, the company established itself on the Web in 2010, at http://www.AbsoluteSteelTX.com. Located in Terrell, Texas, east of Dallas, the company manufactures steel buildings and other structures for private consumers, as well as governmental and commercial entities.