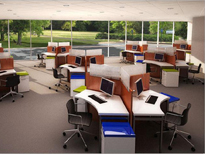 The team at Your Office Agent believe that space should be a flexible tool of a company and not a dead wieight.
(PRWEB) May 28, 2013
Commercial brokerage firms have traditionally simply found square feet for companies to put employees into and no matter how much circumstances changed, the commercial space that had been committed to could not. This has always been not only an expensive solution but also one that is totally at odds with how work is transacted today. Your Office Agent CEO, Brian Mac Mahon is a strong advocate of change and feels that for too long people in the commercial brokerage industry have been financially incentivised to lease as much space as possible for the longest term possible and this has never been in the clients best interest. He also feels that by giving end users access to all the tools out there, such as managed space, sublease space, lease space, drop in space, teleworking, mobile working, coworking and officing on demand, they can help companies not only save money today but also survive when that inevitable change comes along.
The idea of telling companies how to take less space in a more agile way will result in less commission for Your Office Agent and any other Brokers who take this route, however, Mac Mahon feels that helping companies with the right long term advice means those companies will be around a lot longer and a loyalty bond gets built well into the future rather than the low value transactional necessities that exist within brokerage today. This new KPMG way of reducing total cost of occupancy by attacking a companies second biggest cost is potentially revolutionary in the commercial real estate world and Your office Agent are proud to raise this as their banner of value.
Your Office Agent is an innovative corporate real estate and workplace search consultancy. They provide companies with expert advice for their leased offices and workplaces. Be it for one office location, a portfolio of offices worldwide, or virtual, part-time, on-demand, or mobile working options, Your Office Agent works to match companies with the best workplace solutions for their needs today, while anticipating and planning for changing needs in the future. Business changes now faster than ever before, so "the ideal office" is one that's able to grow and contract in-step with your business. The company even have a solution for monitizing excess space if needed.
Contact the Your Office Agent team at contact(at)yourofficeagent(dot)com or 800 600 0881 to schedule a no cost Work Space Cost Reduction evaluation for either new space or an existing portfolio. There is no fee for any new spaces secured and savings are always found in existing portfolios.