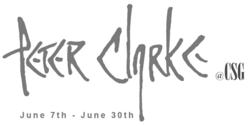 @CSG is the story of the creator.
Burbank, California (PRWEB) May 28, 2013
Sometimes amazing things can happen. The Creative Talent Network known as the premiere community for top talent in the animation industry and host of the International event "The CTN animation eXpo" will be opening a new kind of gallery in June. In association with Stuart Ng Books and Wacom Technologies The Center Stage Gallery @CSG has found its home in Burbank California where it will celebrate the talent and ability of contemporary artists from the feature film, illustration and video industries. Guests will connect with both the personal and professional work of these contemporary industry artists in a re-imagined salon setting creating a "new kind of gallery experience" hitting at the epicenter of the creative process.
"Each time an artist sits down to create whether for a client or for themselves they enter into an amazing and mostly solitary process. A process they passionately reconnect with over and over again during the course of their lifetime," says gallery owner Tina Price. "To not simply "recreate" they will dedicate, nurture and develop their style and unique voice to stand out on the landscape of many." That story is the story @CSG. The creator story. The story that goes deep inside these industry influencers who will be featured "center stage" in a monthly "Artist in Residence" series @CSG. The gallery will also include a rotating "Collectors Corner" displaying original artwork that has inspired generation to generation from various private collectors along with a regularly refreshed stable of books brought in from Stuart Ng Books. Featured books during the opening include titles direct from France of Kiraz, Les Parisiennes, Sergio Toppi artbooks and graphic novels and Le Livre de la Jungle (The Jungle Book) by Pierre Lambert along with a wide array of inspirational sketchbooks.
As part of the gallery's grand opening the first artist in residence from June 7th - June 30th will be New York Illustrator and Feature Film Animation industry professional Peter Clarke. In his first time out of the studio his show named "Past, Pencil, Future", the gallery will be premiering both his personal and professional work with many pieces for sale and on display. The artist will be in residence at the gallery throughout the exhibit and including a book signing of his book MYTHOS: A Collection of FantasticalDrawings and Paintings by Peter Clarke. Directly following the Mayor of Burbank ribbon cutting on June 6th at 2:00pm there will be private preview receptions at night for press and key industry professionals with workshops, conversations with creators, breakfast with the pro and other special events all happening during public hours between June 7th-30th.
To set up an interview with Peter Clarke, please contact Sadie O'Neil at sadie(at)creativetalentnetwork(dot)com or call (818) 404-2931.
Learn more about Peter Clarke by visiting http://www.peterclarkestudios.com/.
About Artist Peter Clarke
Born and raised in New York City, Peter Clarke developed a passion for magical creatures and mystical places at an early age. He spent countless hours at the movies and even more hours creating his own characters and worlds with pencil, paper, and paint. Later, at Parsons School of Design, he dreamed of becoming a fantasy illustrator – quite counter to the rage at the time for high concept editorial and studio art. He nevertheless pursued this direction on his own, looking to such greats as Howard Pyle and Alphonse Mucha. He graduated with a B.F.A in illustration.
After graduating, he started getting various jobs – book jackets, fantasy magazine covers, and the odd prototype illustration or creature design. Peter continued to study with David Passalaqua, a dynamic instructor from Parsons who held his own workshops. Then, after a conversation with a friend about what kind of portfolio was necessary to get a Disney Studios internship, he applied and was accepted into the program in 1992. Six months later he was hired to work at the Disney studio in Burbank. He spent the next several years doing visual development for Dinosaur, Fantasia 2000, Brother Bear and Atlantis.
Peter returned to New York in 1997 but continued working for Disney as a conceptual artist on Treasure Planet. In 1999, he was hired at Blue Sky Studios, which was embarking on its first feature film: Ice Age. As the "environmental designer," he imagined the locations with an angular and faceted look, which set the style of the environments for all of the films. Following the completion of the first Ice Age film, he took a year off to produce a body of personal work, which became his book MYTHOS: A Collection of Fantastical Drawings and Paintings.
To find out more information about the Center Stage Gallery @CSG and their special events happening during the month of June please visit: http://www.centerstagegallery.com or just give them a call at (818) 667-3224.
Facebook.com/centerstagegallery
Twitter @atcsg #galleriesburbank
Press Kit: https://www.box.com/s/i0vb2b9caa7yzxurlt6w