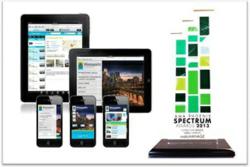 Awarded by the Phoenix Chapter of the AMA with a 2013 Spectrum Award
Scottsdale, AZ (PRWEB) May 28, 2013
The Grand Canyon state's brightest entrepreneurs and marketing executives were on hand at the Spectrum Awards in Tempe on May 15 where mobiManage was awarded Best Mobile Site for the 'Meet Minneapolis' mobile web and tablet project. The event was put on by the American Marketing Association, Phoenix Chapter. The American Marketing Association has grown to be one of the largest marketing associations in the world, with over 30,000 members who work, teach and study in the field of marketing across the globe. mobiManage is a proud member of AMA's Phoenix Chapter.
Douglas Ralston, President and CEO of mobiManage, was enthusiastic about the award and wasted no time in giving credit to his development team. "mobiManage appreciates the recognition, especially amongst the many other successful and distinguished companies that were eligible. I fully attribute this achievement to the years of innovation, dedication, and hard work from each and every member of our team. They have worked tirelessly as a unified team on hundreds of projects and it feels great to bring this honor home to them."
The Meet Minneapolis project was commissioned by the Minneapolis Convention and Visitors Bureau. mobiManage was tasked with taking Meet Minneapolis to the mobile marketplace. Providing the client with a complete mobile website and tablet solution, mobiManage provided affordable, turnkey mobile website development along with hosting and management. The completed project ensured that visitors had access to an effective medium for interacting with with Meet Minneapolis before, during and after their trip; allowing them to easily navigate large amounts of local and event data.
mobiManage joined the Phoenix-area business community in 2008, when it officially opened the doors to its Scottsdale headquarters. Currently, mobiManage is focused on expanding its current reach to the foreign travel market; opening up an office in Malaysia slated for third quarter 2013.
"Many companies may or may not know that we are truly a global company," said Susan Marotta, Operations Vice President. "While we have countless clients in Arizona and in the U.S., we have worked on projects in places such as Malaysia, Aruba, and Hong Kong."
About mobiManage
Based in Scottsdale, Ariz., mobiManage designs, develops, manages and markets mobile websites and mobile applications for clients in industries including travel and tourism, retail, homebuilding, automotive and more, giving customers a richer and more enjoyable way to reach and engage with mobile users. mobiManage offers customized, turnkey mobile solutions that help take its customers' content and marketing to new levels. Founded in 2008, the mission of mobiManage is to provide customers with premium, market-focused mobile websites, applications and services that are easy to manage while ensuring brand and market identity. Clients include CVS/Caremark, Cold Stone Creamery, Visit Orlando, Fulton Homes, Prudential Properties, San Diego Convention and Visitors Bureau, Visit Santa Clara, Shea Homes and more.