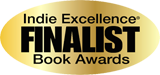 Being honored for excellence in fact-based fiction will help the message of Leave of Absence to be taken seriously. -- Tanya J. Peterson
Eugene, OR (PRWEB) May 28, 2013
Peterson, in writing Leave of Absence, sought to raise awareness of issues surrounding mental illness in hopes of reducing the stigma currently faced by those experiencing it. "That Leave of Absence has been selected for its excellence in fact-based writing is an honor, as I wrote the novel with the express purpose of increasing true understanding of mental illness. With understanding comes empathy," states Peterson. The author's extensive background in mental health contributed to the accuracy and realism of the novel. Peterson has a Master of Science degree in counseling and is a Nationally Certified Counselor. Further, she has personal experience with mental illness: she has bipolar I disorder and has herself spent time in a behavioral health center. Read more about the author's background at http://www.tanyajpeterson.com/bio/.
For Peterson, being selected as a finalist in the NIEA competition's "faction" category is indicative of the fact that fiction can indeed be a powerful tool in conveying serious truths and messages. Receipt of this honor coincides with other activities she is doing during Mental Health Awareness Month. She has given presentations and interviews about mental illness and stigma, and she recently participated in the Portland, Ore. NAMI Walk, a fundraising and awareness event of the National Alliance on Mental Illness.
The announcement was made on May 22, 2013, and a statement released by the National Indie Excellence Book Awards committee reads, "The National Indie Excellence Awards criteria for recognition are stringent and include overall excellence." Information about the contest can be found at http://www.indieexcellence.com.
Professional reviewers and general readers alike have praised Peterson's Leave of Absence for its accurate and sensitive depiction of people dealing with mental illness. Visit http://www.tanyajpeterson.com and see "Books & Reviews" and "Virtual Book Tour" to access reviews and reader comments.
The announcement by the National Indie Excellence Book Awards committee comes at a convenient time for readers looking for great new summer reads.
Tanya J. Peterson can be reached through her website.