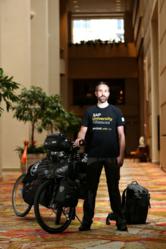 Arhus, Denmark (PRWEB) May 29, 2013
The Interaction Design Foundation, (IDF), a ten year old, transformative non-profit publisher and MOOC focusing on the global technology design community today announced their "Share the Knowledge Tour." One rider, "Max", on a noble mission to spread the word about "free knowledge" across six thousand lonely miles in six months! Kicking off in Orlando on May the 16th and blazing through major college towns in North America - with generous support and sponsorship from SAP, the world's leader in business software.
IDF passionately supports the global technology design community and is using the "Share the Knowledge Tour" to connect with and provide an all access pass to its published content for over 7,000 SAP University Alliances professors and participating students at major universities on the tour. The eco-friendly tour incorporates cooperative events jointly sponsored with SAP, broadening and strengthening IDF's global brand as the market leader/publisher of curated content and courseware for students and professionals in the technology design community.
"This tour bears the slogan "Share the Knowledge" which supports the future higher education environment where Learn, Apply, and Share is key and where the innovation portfolio's goal is to enable students, faculty members, leading global brands, and industry participants to collaborate with SAP creating a new digital, integrated and delightful consumer experience. In this environment the new SAP Ecosystem will be created and the students and universities will be one of the key channels for innovation within and together with the SAP Ecosystem," said Ann Rosenberg, Global head of SAP University Alliances.
"The Share the Knowledge Tour" embodies our core non-profit driven principals, jointly co-sponsored with SAP, who will be helping us create high-impact awareness in major universities that have in-place relationships with SAP," said Rikke Fries Dam, the co-founder of IDF. "We are a well-established market leader, with a blended services model as a MOOC and publisher, with significant global awareness; but, we want to support and leverage SAP's marketing resources to strengthen our brand within the North American academic and professional community."
"We are leveraging Web 2.0 and the social web, with an interactive "Share the Knowledge Tour" map on our web site, connecting via Facebook, Twitter and Instagram to drive broader awareness with students, targeting each university the tour is passing through and national and local media (student and mainstream) when/where appropriate." After crossing the US and Canada, the bike tour will continue, with an estimated four year time span, "touching down" in Asia, Europe, Africa and South America."
About Interaction Design Foundation
IDF is a ten year old transformative non-profit enterprise focused on educating, informing and stimulating the global technology design community. The organization has created a powerful cloud based publishing model, blending free courses with an immersive web site for thought leaders, students, authors, academia, design professionals, futurists and even tech-challenged consumers.
The Denmark based foundation has self-funded throughout its ten years in existence but is now sponsored by SAP and partly funded by professionals who become supporting Foundation Members, Corporate Sponsorships and Grants. info(at)interactive-design(dot)org Web: http://www.Interaction-Design.org Social Channels: Twitter: http://www.twitter.com/interacting FB: http://www.facebook.com/interactiondesign.org #sharethetour http://www.maxontour.org
Media Contact
Lee Traupel
Linked Media Group, Inc.
530.205.8577
lee(at)linkedmediagroup(dot)com