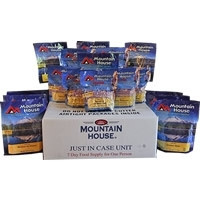 New York, NY (PRWEB) May 27, 2013
Full Moon Survival is one of the largest online supplier of Emergency Survival kits, Emergency Supplies and Food, in addition to emergency food storage/water storage/water filtration, supplies, when dealing with natural disasters. Full Moon Survival is proud to announce the launch of its Mountain House "Just in Case" (1 person/7 days) survival kit.
This super compact "Just In Case" 7-Day Emergency Freeze-Dried Food Reserve for One Person covers breakfast, lunch & dinner! No cooking or preparation required; just add water and eat! It's excellent for home, office, grandparents, boats, cabins, RVs or kids at college!
About Full Moon Survival
Full Moon Survival is the premier emergency management company. We provide all the staples necessary to survive a natural disaster, until help reaches survivors.