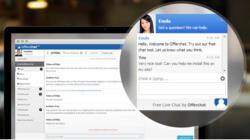 Unlike other chat tools, Offerchat is specifically designed for one-to-one chat conversation.
Boston, MA (PRWEB) May 27, 2013
IBIS noted in a recent report that among America's fastest-growing industries is yoga and pilates studios as an increasing percentage of the American population are spending more of their income on yoga and pilates to stay fit and trim.
Fitness centers and even individual instructors specializing in yoga and pilates who market their services online through their websites can now add a direct customer service chat tool to attract more clients.
The Offerchat embeddable live chat program can be easily added to any yoga and pilates studio website to delight more potential clients and customers. Once embedded, the widget appears online on the lower part of the screen and is visible to every person browsing the site on a computer or a mobile device, ready for use. Customization options ranging from widget appearance to languages used are available to best suit these websites.
To make the chat appear online, a representative (the fitness studio owner, the receptionist, or any member of the customer service team) has to login to the company's registered Offerchat account and access the intuitive, web-based control panel or dashboard and start chatting. The primary account owner can also add agents to help answer incoming chats from their visitors.
The online chat widget allows site visitors to chat directly about their inquiries regarding the yoga or pilates services offered by fitness studios or instructors, available schedules, fees and special discounts, among others, without leaving the page they are on.
These chat messages from interested clients will be received in real time by health and fitness studio website owners or their agents in the dashboard when they are logged in, or in their preferred email address when they are away or offline. Integrations with other instant messaging clients such as Pidgin for Linux and PC users and Adium for Mac users are also available.
Offerchat can also be integrated with IM and mobile chat apps that support the Jabber network to enable customer interaction on the go.
Unlike other chat tools, Offerchat is specifically designed for one-to-one chat conversation. Thus, a site visitor or potential client can have a more personalized, more focused customer experience from a yoga and pilates website which a crowded chatroom interface cannot provide.
About Offerchat
Offerchat.com specializes in online customer service and pre-sales support for online businesses and eCommerce websites. The tool is developed, designed and optimized to increase sales and conversions. It aims to acquire distinction as the only customer service chat tool that offers all core features for free to its beta users. The company's business model revolves around its distinguished live chat outsourcing service of professional live chat agents to businesses who need the manpower well-versed in sales and customer service to man their live chats.