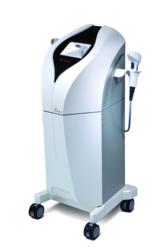 Receiving CE certification is an exciting step in the development of V-touch
Jersey City, NJ (PRWEB) May 27, 2013
Viora, a leading medical aesthetics manufacturer, is pleased to announce the acquisition of CE Certification for V-touch, an innovative Fractional RF device for skin rejuvenation, skin resurfacing, skin tightening and scar reduction. Utilizing advanced SVC™ technology, developed by Viora, V-touch breaks through existing limitations in fractional RF devices and ensures that physicians can now provide minimally invasive, safer, less painful, and more effective treatments to their patients.
Gaining CE certification positions Viora to support physicians with the most novel fractional RF device available. Responding to market demand, Viora has implemented the superior facets of SVC™ technology to afford physicians peace of mind, while giving patients true satisfaction during V-touch treatments. With added features for improved efficacy and comfort, V-touch is poised to spark a revolution in the world of fractional RF and allows physicians to address the most requested non-invasive and minimally invasive treatments. Suitable for all skin types and able to treat difficult areas, such as the neck, décolleté and hands, V-touch is the ideal solution for practitioners.
"Receiving CE certification is an exciting step in the development of V-touch," said Meital Ben-Tovim, General Manager, Viora. "We have many customers awaiting this innovative technology which promises to make a difference in their practice and now we have the capability to put this leading fractional RF device in their hands."
About V-touch
V-touch is a patient-centric innovative fractional RF system delivering superior results for complete and safe skin resurfacing, renewal and skin tightening. V-touch gives more control over the treatment process, and provides a less painful, safer patient experience. Powered by patented SVC™ technology, V-touch is uniquely suitable for all skin types and can easily treat difficult areas, such as the neck, décolleté and hands. Combined with Viora's proven, proprietary CORE™ bi-polar technology, V-touch offers the ideal solution for practitioners. For more information, visit http://www.vioramed.com/v-touch.
About Viora
Viora is a market-leading manufacturer and technology provider of microdermabrasion, electro-mesotherapy, light-based and advanced radiofrequency systems for the global aesthetic and medical markets. All of the products are developed by a team of veteran engineers in the industry as well as medical experts including physicians, surgeons, dermatologists, medical researchers and independent clinical directors. For more information, visit http://www.vioramed.com.