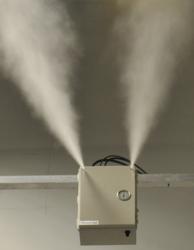 Customers report, Smart Fog humidification system reduces the refrigeration load by 30%
RENO, NV (PRWEB) May 28, 2013
Smart Fog is pleased to introduce an addition to their cold storage humidification solutions. Utilizing the same system that is now used to provide humidification, clients can now use this new cutting-edge technology to sanitize and disinfect at the same time. All the rooms in the system can be treated with a "Smart Fog" bearing the disinfectant that will effectively travel throughout the spaces. Smart Fog has become the leader in Non-Wetting humidification equipment, and has over 30-years in the industry.
Smart Fog reports that their new sanitation and disinfection solutions generates a dry mist of atomized material. Any water soluble disinfectant material can be injected into the system. This new process produces 4.2 micron droplets that will fill every corner, penetrating every surface. The hygienic design ensures a clean, fully automated, maintenance and hands-free system.
Smart Fog explains that the new Smart Fog ES100 System is specially designed for simple installation. It has an easy to mount user-friendly control box that allows for 24/7 automated control.
The system is reportedly ideal for several applications, including: Post-Harvest Wash & Treatment, Food Storage & Transportation, Food Processing Plants, HVAC/Buildings, Hospitals, Schools and Universities, Gyms & Fitness Centers, Animal Health Applications, and much more.
Management states that the ES100 has unique features, such as: Uniform Distribution, Data Logging Option, INJ-1 Injection Option, Non-clogging Nozzles, Low Maintenance, and custom solutions are available. The system auto-cleans itself after spraying, which lowers the risk of residues after the intended disinfection time. The intelligent CPLC Controller will schedule the system to run daily/monthly or hourly. The system has data keeping capability, and users can export temperature/humidity and injection data from the CPLC Controller to an Excel Format.
Smart Fog is a patented technology which creates a consistent water droplet size of 4.2 microns, which are uniformly sized and distributed without wetting exposed surfaces. The secret in Smart Fog lies in the small droplet size of the water, and the engineered spacing between the air and water. The company reports that this is the smallest droplet size in the industry.
About Smart Fog Inc.
In business since 1980, Smart Fog Inc. is the recognized world leader in non-wetting commercial and industrial humidification solutions. Smart Fog's unique technology provides precise humidity enforcement, light speed uniform coverage and intelligent non-fluctuating humidity control. Its newest product is a high grade food safety disinfection technology. All Smart Fog products are engineered and manufactured in the USA.
For more information, visit: http://www.smartfog.com