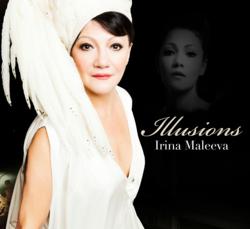 Enduring classics rendered in the lush style of great European artists, revealing an intimate glimpse into an epic life well lived.
Los Angeles, CA (PRWEB) May 28, 2013
Let's Face the Music and Dance, a song written by Irving Berlin is a music video based on the same song from Irina Maleeva's CD - "Illusions" has been officially selected into the prestigious Music Video categories of New Media Film Festival Wednesday June 12th 2013 and Thursday November 21st 2013 for HMMA Awards.
Irina Maleeva spices up Irving Berlin's 1936 "Let's Face the Music and Dance" with native Brazilian rhythms from the Amazon. The lush, black-on-red silhouetted choreography gives urgency to the theme of living for the moment, for tomorrow may be too late.
Irina Maleeva's CD Illusions is currently getting airplay around the world and is available on iTunes and CDBaby.
Irina Maleeva is a true multifaceted international performer. Born in Bulgaria, the daughter of a famous stage actress & an aristocratic Italian statesman, Ms. Maleeva, who speaks seven languages, first established herself as a child performer in Bulgaria.
As a teenager, Irina was discovered by the great Federico Fellini & performed in three of his movies.
With degrees in painting & set design from Accademia di Belle Arti in Rome, studies at the Cinecitta Drama Film School & RADA in London, she received the training that propelled her into a successful worldwide career in films, records, television, stage and cabaret.
Let's Make the Music and Dance Music Video will be judged by 2 time Gemini Winner Ron Proulx and 2 time Grammy Nominated Record Producer Barry Goldberg for New Media Film Festival. After the screening, Irina Maleeva will be part of the Q & A portion of the music video programming. For the HMMA Awards Let's Face the Music and Dance is slated to screen at their Annual Music Awards event at the gorgeous Fonda Theatre in Hollywood CA.
PRESS INQUIRIES:
Contact IrinaWorldwide(at)gmail(dot)com