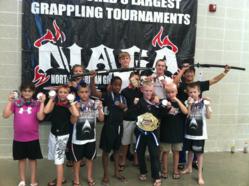 "In our program, kids learn confidence by challenging their bodies and minds, discipline by being a part of a structured classroom environment and great self defense by training a practical, hands-on martial art," says Coach Jon Delbrugge
Owings Mills, MD (PRWEB) May 27, 2013
New Owings Mills martial arts school Crazy 88 is proud to announce that along with its top-notch adult program, it will also be offering age-specific classes for kids in Brazilian Jiu Jitsu, including Tiny Ninjas, Little Ninjas, Juniors and Teens.
"In our program, kids learn confidence by challenging their bodies and minds, discipline by being a part of a structured classroom environment and great self defense by training a practical, hands-on martial art," says Coach Jon Delbrugge, who has been teaching, training and competing in Brazilian Jiu Jitsu and Mixed Martial arts for more than 5 years. He will be heading the Owings Mills teaching staff.
Many traditional martial arts programs for kids work on life skills but lack the hands-on physical practice that is possible with Brazilian Jiu Jitsu, Delbrugge explains.
Kids are soon bored if they are only able to practice theoretical movements in the air. But since jiu jitsu is a wrestling-based martial art without strikes, it can be practiced safely by kids of all ages, allowing them to challenge themselves physically and mentally -- and have a blast in class.
The new Owings Mills academy will offer age-specific classes for kids of all ages, from age 3 through 17.
Crazy 88's original location in Elkridge, Maryland has had a very popular kids program since 2008. The program divides kids into age-specific classes, including Tiny Ninjas, Little Ninjas, Juniors and Teens. With time, kids have the opportunity to progress in the program, moving into more advanced sections, also divided by age and skill-level.
With Crazy 88's Owings Mills program, parents will enjoy the benefits of discipline, focus and respect that are so essential for their childrens' success and kids will love the hands-on, exciting classes.
"Our goal is to help your child become super successful in school and at home," says Julius Park, Crazy 88's founder. "By studying jiu jitsu with our expert kids coaches, your child will learn that their is no obstacle they cannot overcome. Crazy 88 kids are focused, disciplined, and always ready for the next challenge, whether on our mats or in their classes at school."
If you're interested in Crazy 88's 30 day free trial for kids or adults No Gi, BJJ, Muay Thai Kickboxing or Mixed Martial Arts in the Owings Mills area, please call 443-283-1450 or visit http://owingsmills.crazy88bjj.com