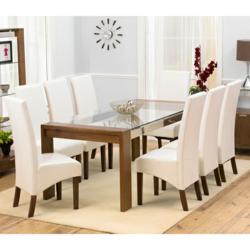 Enhance your dining room with the Arturo walnut glass top dining table set launched by FurnitureInFashion.
(PRWEB UK) 29 May 2013
FurnitureInFashion, the largest online furniture retailer in the UK, proudly introduces the stunning Arturo walnut and glass top dining table with eight dining chairs. This is an absolutely fantastic dining table set which offers an exotic blend of contemporary and traditional elements, suitable for all types of décor themes. The Arturo walnut table set is a stunning dining room collection with an air of quality and sophistication. The beautiful, dark, rich tones of the solid walnut, complimented with chrome will bring a welcoming warmth to any living room or dining area. FurnitureInFashion specializes in dining table furniture and especially dining table sets in glass, wood and marble. The company strives to bring to the market remarkable pieces of furniture that stand out, not only aesthetically but functionally as well. The durability, elegance and delicate beauty of the Arturo walnut glass top dining table set are unparalleled.
The Arturo is a stunning dining table with solid walnut legs that are beautifully hand dovetail-jointed. It is a contemporary blend of wood, tempered safety glass and chromed metal, making this table a perfect addition to any dining room. Keeping quality in mind, naturally forested wood has been used throughout the construction of the dining table. To provide a chic look along with long lasting protection, the solid walnut used in this table has been given a lacquer finish. The lacquer finish also enhances the overall look of this beautiful table. The Arturo walnut glass top dining table is 200cm long, 90cm across and is 76cm high.
The Arturo walnut dining table comes with eight stylish and practical dining chairs. The eight chairs have walnut finished legs and are faux leather upholstered. To provide maximum durability for these chairs, a finger-jointed design has been incorporated. The dining chairs are available in ivory and dark brown. Customers can match the colors to the theme of their dining rooms and create their own customized Arturo dining set. The chairs included in this dining room range are 46cm wide, 44 cm broad and 107cm high.
The CEO and Managing Director of FurnitureInFashion said, "Customers can develop a contemporary theme in their home by buying the matching living room furniture available in walnut in this beautiful dining table set. The walnut furniture is available at very affordable prices."
FurnitureInFashion has long been the best choice to add a touch of personality and style to homes. The style offered by FurnitureInFashion has begun to attract many aficionados, thanks to the unique refinement and delicate elegance of their designs. These styles of furniture can transform any house into an artistic show home. From elegant, contemporary and sophisticated pieces to the more traditional and rustic styles, FurnitureInFashion offers the best in comfort, bringing, warmth, romanticism and color into any home. The company provides a wide variety of contemporary dining tables and chairs and other furniture pieces, to suit any home owner's requirements and preferences. Clients can find furniture that is both reasonably priced and beautifully designed while enjoying excellent customer service at FurnitureInFashion.
To have a look at quality affordable dining tables online and to place a pre-stock order, please visit the company website today at http://www.furnitureinfashion.net. The range of dining tables on the website is huge, delivery is fast, savings are massive and quality is guaranteed.
About FurnitureInFashion
FurnitureInFashion is a UK based online retail business. It supplies furniture items from its German based warehouse and has a showroom in Bolton, UK. The company provides everything from umbrella stands, wall art and room dividers to bedroom suites, bar stools and computer tables. FurnitureInFashion offers free delivery within UK and is rightly proud of its excellent customer service. For further information and details about sales, please visit http://www.furnitureinfashion.net.