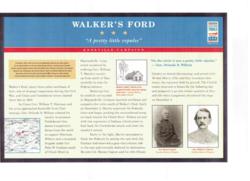 Civil War enthusiasts can appreciate the rugged terrain that troops traveled by visiting this location.
Maynardville, TN (PRWEB) May 28, 2013
Union County will be joining the Civil Wars Trails Program with the placement of a historical marker on Walker's Ford Rd.
As the Civil War advanced into East Tennessee during 1862 to 1863, the mountain ridges and valleys of Union County became the main route of troop movement, seeing both Confederate and Union soldiers, as well as deserters, fleeing slaves, and Unionists seeking asylum behind Union lines.
The Cumberland Gap directly to the north changed hands several times, with General Ambrose Burnside finally securing possession for the Union in September of 1863 during the campaign for Knoxville.
A majority of Union County soldiers were aligned with Federalist units: The First Tennessee Volunteer Infantry, The Second Tennessee Cavalry, and Ninth Tennessee Cavalry. However, there were families who were sympathetic with the Confederate position and joined units in East and Middle Tennessee. The stories of the "divided families and loyalties" are told within the cemeteries and historical markers through-out the county.
The Trails Program is a matching grant project that is paid for by a federal enhancement grant and private funds raised by the Union County Chamber of Commerce.