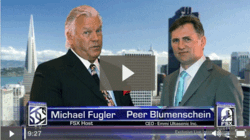 The United States is the biggest dental market in the world.
San Francisco, CA (PRWEB) May 28, 2013
FSX Investment Conference held their recent event in San Francisco, California. The companies that presented at this Investment Conference had the opportunity to be interviewed by Interlinked. Emmi Ultrasonic Inc. CEO, Peer Blumenschein, granted an exclusive interview available at Emmi Ultrasonic's Public Profile on Interlinked's IDeal Room.
During the interview Mr. Blumenschein stated that Emmi Ultrasonic is the developer of an ultrasonic platform technology which is used for dental application with the ultrasonic toothbrush and later this year will be used in a skin device to improve the skin through the use of soft ultrasound.
Emmi Ultrasonic is based in Delaware, USA, with operations in Switzerland and Germany. The products are made in Germany and sold globally in more than 20 countries.
Mr. Blumenschein stated that Emmi Ultrasonic, a company with global ambitions, is selling and marketing in the the United States as it is the biggest dental market in the world. He added that one of the reasons Emmi presented at the FSX Investment Conference is because the financial markets are significantly more sophisticated in North America.
He went on to explain how Emmi-dent's unique ultrasonic system works.
For more information watch the complete interview and visit Emmi Ultrasonic's public profile on Interlinked's IDeal Room https://members.interlinked.com/?c=EmmiUltrasonic.
About Emmi Ultrasonic Inc.
Emmi Ultrasonic Inc. is the developer and manufacturer of ultrasonic personal care products specifically for dental hygiene, well-being and beauty. Our Emmi-dent is the only patented 100% ultrasonic dental hygiene system. Emmi-dent has been selling successfully since 2009 and is now available in over 20 countries. Our Emmi-skin product line will be introduced later in 2013. The corporation was profitable during 2012. Senior management is experienced at launching products in multiple countries and the supply chain has been functioning smoothly since 2009.
About Interlinked
Interlinked is designed to be the most efficient and powerful system available in assisting its members in finding one another, building relationships and ultimately do business together. Interlinked is a private network and it is not open to the public. You must be invited or apply to be part of the community. Our proven process utilizes four primary systems: one, through our custom automated campaigns (IRocket), second through media InterlinkedTV, thirdly our Ideal room, fourth, through our relationships with strong partners and events. For more information go to http://www.interlinked.com.
Safe Harbor Statement
This press release may contain information that constitutes forward-looking statements made pursuant to the safe harbor provisions of the Private Securities Litigation Reform Act of 1995. All statements, trends, analysis, and other information contained in this press release, including words such as "anticipate," "believe," "plan," "estimate," "expect," "intend," and other similar expressions of opinion, constitute forward-looking statements. Any such forward-looking statements involve risks and uncertainties that could cause actual results to differ materially from any future results described within the forward-looking statements. Risk factors that could contribute to such differences include those matters more fully disclosed in the Company's reports filed with the Securities and Exchange Commission. The forward-looking information provided herein represents the Company's estimates as of the date of the press release, and subsequent events and developments may cause the Company's estimates to change. The Company specifically disclaims any obligation to update the forward-looking information in the future. Therefore, this forward-looking information should not be relied upon as representing the Company's estimates of its future financial performance as of any date subsequent to the date of this press release.