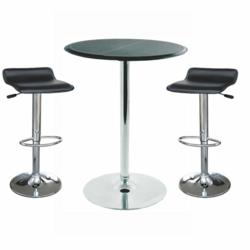 (PRWEB UK) 30 May 2013
FurnitureInFashion, a leading supplier of exceptional quality residential and commercial furniture and accessories, has announced the launch of its stunning new Dallas bar table set with two Fury bar stools. Appealing to a diverse range of consumer preferences and tastes, FurnitureInFashion's new Dallas bar furniture set includes one Dallas bar table and two stylish Fury bar stools. FurnitureInFashion has an extraordinary collection of bar stools and retro tables that are of commercial grade quality and are available at affordable prices.
The contemporary Dallas bar table with two Fury bar stools is one of the most stylish high end designs on the market, suitable for bars, cafes and restaurants. This bar furniture set is also ideal for decks, sunrooms, patios, game rooms, kitchens or any other small domestic space. Designed to complement any décor, this bar furniture set is durable and weather resistant. This bar table and stool will definitely add a touch of glamor in any home. The Dallas bistro table has an elegant and attractive round top. The round top has a stylish finish as modern Italian design concepts have been incorporated. The table top is made of leatherette and the frame is completely chrome plated. The two Fury revolving bar stools are also presented in chrome, including the foot rests. To provide maximum comfort, a smooth gas lift action has been incorporated into the bar stools. The swivel seat adds style and convenience in any room. This bar stool is ideal for commercial as well as domestic use. Its fashionable round seat provides a secure perch for relaxing and working. The Fury bar stools are available with either a black or white seat. Customers can choose the bar stools' color by using the drop down menu provided on the website of FurnitureInFashion. The dimensions of the Dallas bar table are: a radius of 60 cm with a height of 102 cm. The Fury bar stools are 45cm wide, 45cm deep and they range in height between 56 and 76 cm. This bar furniture set is available at an extremely affordable price. With such a striking design, the Dallas bar table and Fury bar stools are sure to become the center piece of any home bar or a striking addition to commercial premises.
The CEO and Managing Director of FurnitureInFashion said, "FurnitureInFashion is pleased to provide stylish stacking bar stools and bistro tables for its customers at the best available value. Comfort, quality and low prices are important components of retailing profit and FurnitureInFashion believes that its newest offering will deliver high returns for both customers and our retail partners." He further added, "Customers can continue to rely on FurnitureInFashion's low prices for quality bar stools and diner seating in a variety of sizes and styles. The company is pleased to offer a unique selection of amazing home décor options of contemporary and modern pieces."
Retro bar furniture enthusiasts looking for top quality bar stools and bistro tables will be delighted with the selection of choices provided by FurnitureInFashion.
To have a look at value-for-money bar stools online and to place a pre-stock order, please visit the company website today at http://www.furnitureinfashion.net. The range of affordable bar stools and bistro tables available online at the website is huge, delivery is fast, savings are massive and quality is guaranteed.
About FurnitureInFashion
FurnitureInFashion is a UK based online retail business. It supplies furniture from its German based warehouse and has a showroom in Bolton, UK. The company provides everything from umbrella stands, wall art and room dividers to bedroom suites, bar stools and computer tables. FurnitureInFashion offers free delivery within UK and is proud of its excellent customer service as well. For further information and details of sale, please visit http://www.furnitureinfashion.net