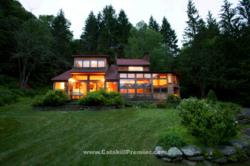 "Our buyers want to be active and having access to good quality programs is important to them," said Wedemeyer
(PRWEB) May 31, 2013
When Christine and Bill White were looking for a vacation home in the Catskill Mountains of Upstate New York, their interest was immediately drawn to those communities around Belleayre Mountain. "This area offers so many cultural and recreational things to do all year round," said Ms. White. "We want to get the whole Catskills experience when we come to our country home and Belleayre Mountain is a great center of activity."
The desires of this New York City metropolitan area couple comes as no surprise to Catskills real estate broker Eric Wedemeyer. "Our buyers want to be active and having access to good quality programs is important to them," said Wedemeyer whose Coldwell Banker Timberland Properties agency has four offices in the region. "Our company sponsors theater groups, festivals, concert series, and other events because they enhance the quality of life here."
Belleayre Mountain is home to a state-run ski center and a summer-long music festival featuring such performers as The Manhattan Transfer, The Doobie Brothers, and Dwight Yoakam.
"We love all the interesting events in the Catskill Mountains," added White. "The welcome we always receive really makes us feel like we're part of the community."
Click here to view Catkill Mountain real estate listing near Belleayre Mountain.
Coldwell Banker Timberland Properties, with offices in Margaretville, Boiceville, Delhi and Stamford, is the premier real estate agency of the Catskill Mountains in New York State. Buying and selling land and homes in the New York City watershed area is unique and the 25-plus agents of Coldwell Banker Timberland Properties are trained to help buyers and sellers through this process. For more information about Coldwell Banker Timberland Properties and to preview Upstate New York homes and land offerings, go to http://www.timberlandproperties.com.