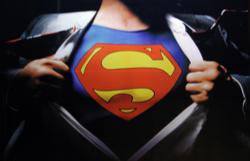 Case studies have real super powers when it comes to persuasion. They influence prospects by telling the story of how someone else found success with a company's offerings.
Overland Park, KS (PRWEB) May 31, 2013
Case studies get overlooked by far too many marketing managers when they are looking for ways to use their marketing dollars effectively.
"Companies turn to slick brochures and flashy web banners to convince prospects that their product or service is the best. But the real superhero when it comes to marketing tools is the case study. These mighty documents have real super powers when it comes to persuasion. They influence prospects by telling the story of how someone else found success with a company's offerings," says Gina Kellogg, CEO/principal of The Success Story Pro, a boutique marketing agency in Overland Park, Kan., that specializes in writing success stories such as case studies and white papers.
Kellogg recently launched The Success Story Pro website with the aim of helping businesses better understand the value that success stories, such as case studies and white papers, can add to their marketing efforts.
"Nothing else is as convincing as someone else's real-life experiences in reassuring someone they are making a good choice. That's what case studies do. They have a way of 'saving the day' when it comes to finding that perfect element of your marketing that leads to real ROI," Kellogg adds. "They save the day by being able to perform in ways that other marketing materials can't."
Kellogg says case studies have this power because people place a lot of trust in learning that others have had success with what a company sells. "That's why online reviews on Amazon, Yelp! and other sites—where consumers give their opinions—are so popular," she explains.
"People simply want to know that others are happy with a product or service before they spend their money on it. And studies today show that the second-most respected source of information is strangers' reviews. So after checking with a family member, friend or acquaintance, most people want to know the opinions of people they don't know. They'll put a lot of value on those individual's comments, even if they have never met the person.."
That trend is especially important today when budgets are tight and people must take care where they invest their dollars, whether on a new photocopier, an accounting firm, a scaffold or a retirement community.
"Statistics show that people are spending more time online researching a product or service than ever. With big-dollar purchases, in particular, they don't want to take a chance on wasting their money," Kellogg explains.
As a result, people will surf the Web looking for information that will help them make a decision. When they come across case studies, white papers or other types of testimonials, those stories resonate with the online reader. The stories allow the researcher to put himself or herself into the shoes of the person in the story.
"Case study readers can see themselves in the same situations as the person in the story," Kellogg says. "They can imagine making the same decisions after seeing how a product or service helped this other person or business."
Kellogg's website offers tips about the value of success stories, as well as how to get the most value from them. For example, she suggests making sure your case histories are posted on your website to get the most value out of them.
"Hire someone to optimize the documents for search engines, and you'll get even more mileage," she explains. But, whatever you do, make sure you post them online, whether they include keywords or not. "If they aren't online, their magical superpowers cease to exist," she says. "Like Superman, case studies have their own form of kryptonite that zaps their powers—and that's a lack of exposure. So get them online and watch how they become the superheroes of your marketing team."
ABOUT GINA KELLOGG & THE SUCCESS STORY PRO
Gina Kellogg is principal, CEO and owner of The Success Story Pro (Overland Park, Kan.). A former journalist and communications director, Kellogg specializes in helping businesses increase their lead generations and close sales by sharing the details of their customers' success stories. Kellogg interviews companies and their clients to create compelling case studies, white papers and submitted magazine articles. She regularly writes articles on marketing topics, such as "3 Reasons Case Studies Are the Superheroes of Marketing" and "When Good Customers Make Bad Case Studies."