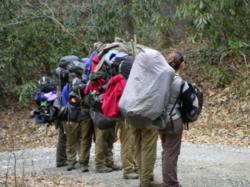 We work with my clients on being honest and committing to sobriety, and then help in devising a plan of how to succeed," Leigh Uhlenkott, LPCS, NCC, LMHC, Trails Carolina Primary Therapist
Lake Toxaway, NC (PRWEB) May 28, 2013
Trails Carolina, a therapeutic wilderness program for struggling teens, joins the efforts to alleviate the stigma around seeking help and treatment for alcohol-related problems. As a primary intervention program for teenagers facing a myriad of issues, Trails Carolina regularly witnesses firsthand the damaging effects of alcohol abuse among teens and their families.
"Alcoholism and addiction can start at a very young age," explains Leigh Uhlenkott, LPCS, NCC, LMHC, and a Primary Therapist at Trails Carolina. "At Trails Carolina we use tools such as a genogram to demonstrate the genetic link of addiction. We work with my clients on being honest and committing to sobriety, and then help in devising a plan of how to succeed. We will also cover relapse prevention by identifying the people, places, and things that trigger use."
Therapists at Trails Carolina's wilderness program explore and combat the complexity of underage drinking across all ages of its clientele. According to the National Council on Alcohol and Drug Dependence (NCADD), approximately 10% of 9- to 10-year-olds have started drinking, and nearly 33% of youth begin drinking before age 13. The problem only continues to grow as, each day, 7000 teenagers in the United States take their first drink of alcohol.
The impact of this early alcohol experimentation carries economic and safety risks for everyone. The economic cost of underage drinking a problem is an estimated $62 billion annually. Meanwhile, the safety risks are immeasurable. An estimated 7.9% of 16- or 17-year olds have driven under the influence of alcohol, putting at risk the lives of everyone with whom they share the road.
Learning to recognize the signs and symptoms of alcohol use among teens is the first step to helping teens seek the help they need. With decades of experience helping teens make behavioral changes, Trails Carolina therapeutic wilderness programs offers a few common symptoms for parents to recognize the signs of potential abuse:

Increased lies and excuses
Breaking curfew
Isolating in their room
Verbal and physical abuse toward others
The smell of alcohol on their breath or body
Glazed or bloodshot eyes
Late sleeping or additional complaints of headaches
Deterioration of hygiene or physical appearance
Mood swings
Stealing
The American Academy of Child and Adolescent Psychiatry also offers these warning signs of potential alcohol use among teens:

Physical: fatigue, repeated health complaints, red and glazed eyes, and a lasting cough.
Emotional: personality change, sudden mood changes, irritability, irresponsible behavior, low self-esteem, poor judgment, depression, and a general lack of interest.
Family: starting arguments, breaking rules, or withdrawing from the family.
School: decreased interest, negative attitude, drop in grades, many absences, truancy, and discipline problems.
Social problems: new friends who are less interested in standard home and school activities, problems with the law, and changes to less conventional styles in dress and music.
For additional information or questions about recognizing the potential signs of alcohol abuse or for help preventing teens from alcohol abuse, please visit Trails Carolina's wildnersss program website at http://www.trailscarolina.com or call our admissions department at (800) 975-7303.
###
Trails Carolina (http://www.TrailsCarolina.com) uses decades of experience to serve provide teens a clinically driven, family focused therapeutic wilderness program. Trails helps teens address the problematic behaviors and as a result create lasting change in the way families interact. The Trails staff integrates research, experience, and a values-based team approach in wilderness and residential settings to help teens develop lasting coping skills. Trails offers programs for boys and girls ages 10 – 13 and 14 – 17. For more information about Trails Carolina, please visit our website at http://www.trailscarolina.com or call us toll free at (800) 975-7303.