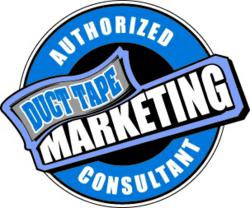 "Being accepted into the Duct Tape Marketing Authorized Consultant Network will allow me to give my clients access to the world's most successful small business marketing system." --Kevin Jordan
Richmond, VA (PRWEB) May 29, 2013
Kevin Jordan, a Richmond, VA marketing consultant, has recently joined the network of consultants authorized to deliver the world-renown Duct Tape Marketing System to small businesses. Jordan's firm, Redpoint Marketing Consultants, will now be able to use the unique process created by Duct Tape Marketing to help clients grow their business.
"Being accepted into the Duct Tape Marketing Authorized Consultant Network represents a major opportunity for both myself and my clients," said Jordan. "It will give my clients access to a proven system that has delivered predictable results to thousands of small businesses around the world, and it will give me another platform to use to promote my firm."
Redpoint Marketing Consultants has been serving small businesses in central and southern VA since June of 2012. Initially, the firm focused only on assisting local businesses with various on-line marketing tactics like social media, pay-per click advertising, and web development. However, they quickly discovered that their clients had a need for help developing a marketing strategy to support the tactics. That's when they discovered Duct Tape Marketing, a leading small-business marketing brand that takes a rather unique approach to marketing.
"Duct Tape Marketing is one of the only companies that approaches small-business marketing in a systematic way, and puts the emphasis on strategy before tactics," said Jordan. "They've created a seven-step process that a business can go through, where each step builds on the last and has the end result of installing a complete marketing system in the business."
Jordan plans on offering two training and coaching programs to small business owners using the Duct Tape Marketing system:
The Marketing Catalyst Program will focus on building a complete marketing system for a business.
The Total Online Presence course will only deal with on-line marketing, which in recent years has become an absolutely critical part of small-business marketing.
Business owners interested in either program can complete a Signature Brand Audit on-line and schedule a free discovery session with Kevin to determine if the programs are a good fit for them. They can also register for a free marketing workshop held monthly in central Virginia.
As an authorized Duct Tape Marketing consultant, Jordan will be a member of a very elite group. There are currently only 61 members of the network around the world, with most of them located in the U.S., Canada, and Latin America. Jordan will be one of only two Duct Tape Marketing Consultants located in Virginia, and the only one in the greater Richmond area. Consultants must go through an extensive application and training process to join the network, including a four-day intensive training program at the Duct Tape Marketing headquarters in Kansas City, MO.
For more information about Redpoint Marketing Consultants and Duct Tape Marketing, contact Kevin Jordan or visit http://www.RedpointMarketingConsultants.com.
About Kevin Jordan:
Kevin Jordan is the owner of Redpoint Marketing Consultants, which offers marketing training and coaching programs to small business owners in central Virginia, including the greater Richmond area. He focuses on helping businesses develop a marketing strategy, and implementing a plan that serves that strategy. He is an authorized Duct Tape Marketing Consultant and certified Google Adwords Consultant.
About Duct Tape Marketing
Duct Tape Marketing is a unique turnkey small business marketing system created by award-winning small business marketing expert and author John Jantsch. Today, the Duct Tape Marketing System is used by thousands of small businesses worldwide and delivered through a network of authorized consultants. It is widely recognized as the most successful small business marketing system ever created.