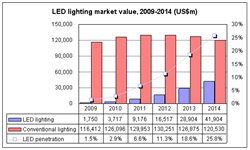 We call it Total Light Quality™ since we believe in a more aggressive definition of excellence beyond straight-forward color rendering, taking into account all of the factors of quality.
Ottawa (PRWEB) May 27, 2013
At a time when the lighting industry is discussing adding color rendering standards to LED lamp certification, Leapfrog Lighting — specialists in commercial quality LED lamps—urges the industry to pay more attention to optical performance, color consistency and glare factors.
"We call it Total Light Quality™ since we believe in a more aggressive definition of optical excellence beyond straight-forward color rendering, taking into account all of the factors of light quality," said Stephen Naor, CEO at Leapfrog Lighting, an Energy Star partner company.
Mr. Naor explained that lighting is a major factor in the enjoyment of life and productivity of environment. While Leapfrog Lighting acknowledges color rendering index (CRI) is an important element in producing a higher quality LED light, Mr. Naor believes there are other factors equally important to users of LED lamps. "It's a good first step that we target higher CRI bulbs—that more faithfully reproduces the full spectrum of natural light. Our own PAR38 lamps for example, render a CRI of 95, which is amongst the very highest in the industry. But we have found our customers also look to us for additional optical performance factors, such as reduction in glare and uniformity of light and consistency. It's not only about color spectrum." Ultimately, it is the responsibility of companies such as Leapfrog Lighting to deliver on comprehensive excellence in lighting," he explained.
In retail and commercial environments, the value of low-glare, even light distribution and consistent color are all equally important to workplace productivity, highlighting of displayed product, morale and satisfaction. "It's not just about saving money on the electrical bill in the workplace," Mr. Naor said. He added that the goal must be a no-compromise solution. "Leapfrog Lighting's mission—our entire focus as a company—is to provide the most uncompromising performing LED lamps for commercial, industrial and retail applications."
Leapfrog Lighting's lamps provide "improved glare control, light distribution and color consistency," said Canadian Federal Minister Gary Goodyear, at a recent press event announcing an investment in Leapfrog Lighting's ongoing research and development. The Minister of State for Science and Technology praised "measurable improvement on lighting quality required by facility managers, institutions, architects and retail businesses."
LED lamps typically cost more to acquire than incandescents, but last more than 15 times as long if they are Energy Star certified lamps, while using at least 75% less energy. The economic argument is compelling for businesses in particular, where labor costs for changing bulbs in large facilities adds to the cost. Mr. Naor, however, believes the main thing holding back mainstream adoption is quality of light, which can be overcome if more manufacturers focus on optics, glare, distribution and color consistency factors.
Energy Star, a voluntary program of the U.S. Environmental Protection Agency, is a key driver of market share in business adoption of LED lamps by helping businesses and individuals protect the environment and save money through use of energy efficiencies. Lamps certified by Energy Star are eligible for rebates and other incentives, which vary by region.
"The issue is that if people think certification is only about environmental protection or energy, then mainstream adoption, particularly in commercial applications, will be painfully slow," said Mr. Naor. "Early conversions to poor quality compact fluorescents or LEDs, may have colored the decision process inappropriately. Companies, such as Leapfrog Lighting, who embrace Total Quality Lighting, can provide a no-compromise solution to commercial applications."
The current Leapfrog Lighting product line includes MR16, PAR30, PAR38 and PAR20 lamps that provide industry-leading output power through high-efficiency LED source and driver electronics. The innovative lens design creates a pleasing, glare-free light suitable for use in all indoor and unexposed outdoor down-lighting applications. The lamps also deliver the high CRI and ultra-consistent color temperature control critical to multi-lamp applications in hotels, restaurants, schools, office buildings, museums, galleries, retail operations and other public spaces. With a life expectancy of 40,000 operating hours, these UL-registered lamps will provide more than 27 years of service at 4 hours per day.
"Leapfrog Lighting intends to be the current and future benchmark in quality of light for years to come," said Stephen Naor of Leapfrog.
Background
LED lamps are expected to achieve 25.8% market share by next year (2014) according to Digitimes research in "Trends in LED lighting market."Through programs such as Energy Star and its accompanying rebates, aggressive adoption targets—such as 50% by 2015 in Japan and 30% in China—are considered realistic projections. Many industry insiders, according to GreenTech Efficiency, believe an 80% market share is feasible by 2020
*Total Light Quality and TLQ are trademarks of Leapfrog Lighting.