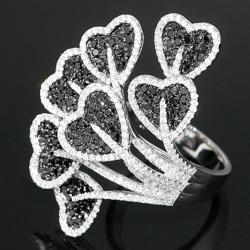 Manhattan, New York (PRWEB) May 28, 2013
Whether it's for her birthday, an anniversary, or a casual Saturday evening surprise, the designers at Avianne Jewelers have developed an extensive selection of diamond heart rings that are sure to catch her eye, regardless of the occasion. Few gifts can express as much affection and sophistication as the rings in our collection. Handcrafted by our highly experienced team in the heart of New York City's famed Diamond District, our assortment of both traditional and custom designs is sure to add a level of allure and charm to any woman's wardrobe.
Among the most elegant and intricate pieces in our collection is the Shooting Hearts Cocktail Ring, an 18k white solid gold diamond heart ring. Sure to enhance any ensemble, this stunning piece is adorned with 156 of the highest quality round cut black diamonds and 292 small round cut white diamonds. Unlike a traditional heart ring with diamonds, the Shooting Hearts Cocktail Ring is composed of a series of diamond encrusted hearts, each representing its own expressive aspirations within a diamond encrusted constellation. Weaving across the 18k white gold frame, the flickering hearts are a radiant declaration of elegance.
The 448 near flawless black and pure white diamonds on the piece are set using micro pave technology which involves incredibly delicate instruments. This particular setting technique is so exceptional that there are only a handful of capable craftsmen in the country. Avianne & Co. are the exclusive diamond jewelers to artists, entertainers, and athletes worldwide, specializing in both traditional and custom pieces. Designed iteratively over a period of several month, the piece is set to join the jeweler's exciting selection of heart rings on June 1, 2013. While the procedure is certainly an extensive and demanding one, the final products are always as satisfying as they are precious. Among the most unique and expressive heart diamond rings on the market, the Avianne & Co. Shooting Hearts Cocktail Ring will be sold at the special price of $3,849.00. It's the ideal gift, guaranteed to garner both envy and admiration.