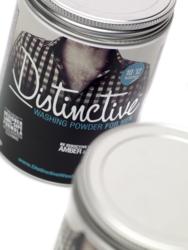 We are testing a solution which will strip germs and bacteria from washing during the last stage in the wash cycle but that has a designer fragrance that is pleasant to use on clothes
Northamptonshire, United Kingdom (PRWEB UK) 30 May 2013
A brand new company are on a mission to develop the very first industry strength liquid to bust the germs found in family laundry.
Spotting a gap in the market for an at-home liquid rinse to kill nasty mould, bacteria and viruses found on clothing, entrepreneur Louise Knowler has a Distinctive aim.
Louise said: "There hasn't been anything like this on the market for domestic use yet.
"We are developing a strong cleaning solution which will strip germs and bacteria from washing during the last stage in the wash cycle but that has a designer fragrance that is pleasant to use on clothes."
Distinctive Wash ltd have already caught the attention of 3.5 million people on Youtube with their first ever washing powder just for men. They now hope to take their laundry revolution one step further with a new super hygienic rinse.
Louise said: "Hospitals already use this kind of solution to prevent virus transfers but we want to create something more accessible that can be used at lower temperatures.
"For sports people or those suffering eczema or infection this liquid will really make a difference."
Anti-fugal and antibacterial products have been in use in industry environments for some time but leave a nasty smell.
Lousie said: "It's not pleasant to think about the germs or bodily waste that comes into contact with bedding in the wash but people don't want laundry to have a chemical odour either.
"It's therefore a great opportunity to develop a product for the modern day family which will give the deepest and most hygienic clean whilst imparting a lovely fresh scent."
For those conscious of their carbon footprint the liquid will also bring a deeper clean to low temperature washing.
Lousie said: "Distinctive Wash are investing in this research because very few items of clothing can be boil washed to remove the germs these days and the future is about low temperature, gentle washing, suitable for all kinds of laundry.
"Like the use of antiseptic sprays around the house, we wouldn't advocate using them all the time. Germs in the home, like insects in the garden have their place but there are times when nature needs a helping hand against the nasties."
Louise hopes her Distinctive antibacterial washing solution will be on the shelf before winter to accompany her internationally recognised Washing Powder.
Interested business partners are encouraged to contact Louise at http://www.distinctivewash.co.uk.