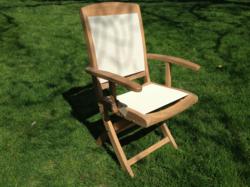 Foldable and practical for the Harris Garden but also superbly sumptuous
Basingstoke, Hampshire (PRWEB UK) 31 May 2013
Chic Teak, a leading supplier of outdoor garden furniture, have recently delivered a consignment of teak chairs and tables for the Rose Garden in the Lords Cricket Ground, London NW8.
As part of its recent renovation Chic Teak sourced and supplied a luxurious directors style arm chair. The chair has a seat and back support made of fabric and the famous MCC (Marlyebone Cricket Club) insignia. The folding chairs with Raintex fabric were also supplied with a selection of square and round folding teak tables, non folding round Laurel pedestal tables, club bar chairs and bar tables.
Chic Teak has aptly named the directors styled chair the Lords folding chair and it is also available as part of the Claudio Bartels designer collection in both carver and dining format. Standard Lords chair stock are without the special MCC logo which was for the Marlyebone Cricket Ground only.
The Harris Garden is a charming rose garden laid out on the former site of a lawn tennis court near the entrance to the Pavilion. Constructed in 1934 in memory of the renowned cricketer and politician, Lord Harris, it is a tranquil oasis in the heart of London, and forms a lovely alfresco venue for summer parties and receptions.
Chic Teak Managing Partner Robert Bowden commented: "Lords is no stranger to Chic Teak having supplied them with benches, bar furniture and tables for many years. In this instance it was a privilege to source these delightful chairs on their behalf. The new Lords folding chairs are made by one of our best designers and are not to be confused with the more conventional directors chair. The Lords Chair is made from A grade teak and sanded to a superb smooth finish with only the best in fabric and metal fittings which makes these chairs not only foldable and practical for the Harris Garden but also superbly sumptuous and particularly fitting for discerning MMC members and its guests."
For more information on Chic Teak, the Lords chair and their other seating and tables, visit their website at http://www.chic-teak.co.uk or telephone 0845 390 5000.