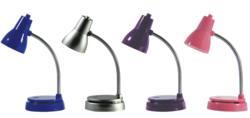 Mighty Bright's newest LED Lights have been designed to ensure reading in low-light environments is both easy and affordable.
Santa Barbara, CA (PRWEB) May 29, 2013
Mighty Bright, designer and manufacturer of innovative LED reading lights, will showcase their newest LED book lights at BookExpo America (BEA), May 30 – June 1, 2013 in booth #1012 at the Javits Center in New York City.
Mighty Bright's newest products have been designed to ensure reading in low-light environments is both easy and affordable. Building on Mighty Bright's commitment to producing quality, inventive, and fun LED lighting solutions, the three newest LED lights provide on demand lighting in spectacular designs and a variety of colors.
Mighty Bright LED lights featured at BookExpo America:

Just released, Mighty Bright's LED Timer Light is the right fit for bedtime readers and the perfect monitor for children's nighttime reading. The eco-friendly, utilitarian light features a digital timer adjustable to 60 minutes in 15-minute increments; set the timer and the light shuts-off automatically at the desired time. The Timer Light's intuitive red indicators designate four 15-minute intervals, letting users know just how much time remains before "lights out."
The TinyTask LED Light isn't your average reading light. A mere four inches tall, the TinyTask boasts a bright LED and comes in four whimsical colors: pastel pink, deep blue, powerful purple, and stunning silver. It's cute. It's fun. And it's functional. The TinyTask illuminates pages with bright white light; when not in use, the light adds adorable spunk wherever it is placed.
The LUX Spotlight LED Task Light is designed for just about any small space in need of a little extra reading light. With a petite profile, the LUX Spotlight can squeeze onto any crowded end table or desk. Shining brightly with 275 lumens, the LUX Spotlight delivers warm white, 3200K light. The LUX Spotlight is classically designed to accentuate any room's aesthetic, and its durable steel components and high-quality LEDs ensure it will remain a part of living spaces for years to come.
Visit Mighty Bright at BookExpo America.
Visit booth #1012 to see the complete line of Mighty Bright lights.
About Mighty Bright
Mighty Bright's uniquely designed, eco-friendly personal lights are portable and affordable. Based in Santa Barbara, CA since 1985, Mighty Bright blends ease of use and affordability with impressive functionality, durability and portability. Since LEDs provide hundreds of thousands of hours of light, you can feel good about your earth friendly purchase. For more information, contact Mighty Bright: 800.922.3233 or visit http://www.mightybright.com.