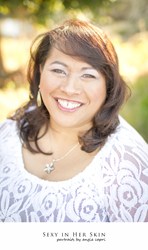 San Francisco Bay Area, CA (PRWEB) May 29, 2013
Angie Capri is the founder and owner of Angie Capri Photography, an international portrait photography studio based in the San Francisco Bay Area. Capri is dedicated to creating empowering portraits for all women. She addresses recent comments made by CEO Michael Jeffries that Abercrombie and Fitch purposefully discriminates against plus-sized women and children. This topic is especially important to Capri, as she strives to bring out the authentic beauty and radiance of each of her clients in an effort to undo the damage society has done to their self image.
In a recent article in The Business Insider, Abercrombie and Fitch's Reputation Tanks After It Discriminates Against Large Women, (1) describes how Abercrombie has publicly announced their refusal to create clothes for large women, based on CEO Michael Jeffries comments: "In every school there are the cool and popular kids, and then there are the not-so-cool kids. We go after the cool kids. A lot of people don't belong, and they can't belong. Are we exclusionary? Absolutely."
Abercrombie does not offer women's clothing in sizes XL or XLL, they also do not offer women's pants larger than a size 10. According to a recent article by RIS News, Abercrombie CEO: Heated Response to 'Cool' Remarks (2) "the average pant size for an American woman is a 14 and plus size shoppers make up 67% of United States consumers."
Capri has been inspired by a few people in particular, Greg Karber, Jes Baker, and of course one of her favorite people, Ellen Degeneres, who have chosen diverse and creative ways to respond to the recent headlines. Greg Karber, an LA-based writer, says Abercrombie actually destroys and burns damaged clothing, instead of donating them to the poor. He is now on an Abercrombie "re-branding" mission. Karber scoured thrift stores for Abercrombie clothes. Then, he went to Los Angeles' Skid Row and handed them out to homeless people, while creating a powerful documentary in the process. Watch his video on the Business Insider, Man Gives Abercrombie Clothes To Homeless People As Revenge For 'Cool Kids' Comment. (3)
Jes Baker created the marketing campaign, "Attractive & Fat," her new definition of A&F. Baker fights back against typical images in the media, where larger men and a slim woman are the considered acceptable in the media. However, images of plus size women with thin men rarely exist. In Baker's new provocative campaign, she poses alongside her male counterpart, who looks like one of the 'cool kids' Jeffries has been referring to. Baker's ads have been so successful, they are now showing up alongside real A&F ads online, and the public supports these images becoming real ads featured by Abercrombie. Watch her interview at ABC7 News, 'Attractive & Fat' campaign slams Abercrombie & Fitch. (4)
Ellen Degeneres, TV talk show host, didn't hesitate to give Abercrombie's CEO a 'smackdown' of her own. KTAR released a video of Degeneres' recent monologue, Ellen Degeneres gives Abercrombie & Fitch CEO the smackdown. (5) KTAR explains, "Ellen Degeneres was next up to bat. She brilliantly gave Jeffries a piece of her mind." After describing Jeffries comments, Degeneres responds with, "Oh Fitch, Please!" She goes on to display the retailers largest t-shirt, and her version of their smallest size. "Beauty is not between a size 0 and a size 8. It is not a number at all, it is not physical. If you really want clothing from a cool place, I have 3 words for you, the Ellen Shop! What you look like on the outside is not what makes you cool. I had a mullet and parachute pants for a long, long time, and I'm doing OK." Degeneres goes on to describe the most important thing to feeling beautiful, as being healthy and happy!
Capri is on a mission to improve women's perspectives about their bodies, and Jeffries comments have only strengthened her resolve. Recent headlines in the news have fueled Capri's desire to create an even larger, global impact than she originally imagined. According to Capri, it's time for women to re-discover their beautiful, authentic, sexy selves. Capri has created an environment and a process that for the first time allows women to redefine beauty for themselves. She is changing the world, one beautiful woman at a time. To find out more about Capri, and to support her mission of empowering women, visit her at http://angiecapri.com.
References:
(1) Abercrombie & Fitch's Reputation Tanks After It Discriminates Against Large Women, May 16, 2013
http://www.businessinsider.com/abercrombies-reputation-takes-a-hit-2013-5
(2) Abercrombie CEO: Heated Response to 'Cool' Remarks, May 21, 2013
http://risnews.edgl.com/retail-trends/Abercrombie-CEO--Heated-Response-to--Cool--Remarks86487
(3) Man Gives Abercrombie Clothes To Homeless People As Revenge For 'Cool Kids' Comment, May 15, 2013
http://www.businessinsider.com/man-gives-abercrombie-to-homeless-people-2013-5#ixzz2U8LNhSX6
(4) 'Attractive & Fat' campaign slams Abercrombie & Fitch, May 22, 2013
http://abclocal.go.com/kgo/story?section=news/business&id=9113106
(5) Ellen Degeneres gives Abercrombie & Fitch CEO the smackdown, May 17, 2013
http://ktar.com/59/1636375/Ellen-Degeneres-gives-Abercrombie--Fitch-CEO-the-smackdown