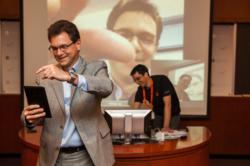 WebRTC represents an opportunity for businesses to humanize Web software in order to cultivate customer relationships like never before.
Gatineau, QC. (PRWEB) May 27, 2013
Call centers, online retailers and content providers were among the key groups identified by industry experts last week as being primed to benefit from early adoption of Web Real-Time Communication (WebRTC) technology. The discussion took place in Ottawa on Thursday, May 23, during Canada's first expert panel debate focusing on WebRTC and its impact on mobile and online software applications.
"WebRTC represents an opportunity for businesses to humanize Web software in order to cultivate customer relationships like never before," said forum emcee Doug Michaelides, Managing Director at user-experience-design and software-development firm, Macadamian. The company hosted the technology-in-business event titled, WebRTC: Transforming Enterprise Communication.
For more than a year, Macadamian has been working with WebRTC technology, which enables video, voice and text communications, as well as screen-sharing, between Internet browsers – without the trouble of proprietary software plug-ins. Macadamian opened the event with a demonstration of the technology.
Event participants agreed that the live video communications capabilities of WebRTC in particular will be used to establish better rapport and trust with a variety of stakeholders. Some of the suggested practical applications for the technology included:

Online sales agents explaining the features of big-ticket jewelry items before customers make purchases;
Real-time communications between family members and other viewers via smart TVs;
Nurses providing more information about health matters to potential blood and organ donors;
Doctors providing consultations with patients living in rural areas.
Key Discussion Themes
WebRTC is rapidly becoming available prompting many businesses to start integrating the technology within existing customer service models or at least thinking strategically about how it might be used to better engage stakeholders;
The power of WebRTC lies in its ubiquity as it's easy for software developers to implement and simple for the general public to use;
There are exciting opportunities for businesses to integrate WebRTC technology into software applications and websites to create richer, more personalized customer experiences that take place in context – in real time, and possibly at lower cost;
The disruptive potential of WebRTC is hard to predict but it will ultimately be determined by how businesses decide to use the technology – existing online activities will evolve in unpredictable ways to deliver customized experiences for consumers.
Event Participants
Jim Davies, Chief Technical Officer, Mitel; Dilshan De Silva, Head of Browser Products, Espial; Mark MacGowan, Director, IT Infrastructure Management, Canadian Blood Services; Dave Michels, Industry Analyst and Telecommunications Consultant; and Scott Plewes, Vice President, User Experience Design, Macadamian, were the expert panelists who debated the impact of WebRTC on businesses. The discussion moderator was Mark Lindsay, President of the Ottawa Product Management Association.
An audio recording and transcript of the discussion are available at http://www.WebRTCOttawa.com. The forum was presented in collaboration with the Ottawa Product Management Association and it was held at the University of Ottawa Telfer School of Management. The Twitter hashtag is #WebRTCOttawa.
About Macadamian
Macadamian (http://www.macadamian.com) collaborates with some of the largest technology companies in the world to create inspiring software that stands out and enriches lives. We bring products from napkin sketch to market readiness, exceling at all stages of the product-development lifecycle – from research to design to development. With more than 750 completed projects worldwide, our clients include industry leaders such as Avaya, BlackBerry, GENBAND, Juniper, Logitech and Microsoft. For both established and emerging technologies, we have a lengthy track record of helping clients create successful products on a complete range of desktop, Web and mobile platforms.
###
Attn. Editors: A photo and transcript from the forum, WebRTC: Transforming Enterprise Communication, are available upon request.