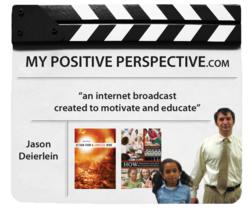 There may not be a My Positive Perspective if it wasn't for my grandfather
Charleston, SC (PRWEB) May 28, 2013
On May 27, 2013, My Positive Perspective broadcast an episode to honor multiple wars veteran, Michael Kline. Kline was the grandfather of My Positive Perspective host Jason Deierlein and in this episode Deierlein recalls some of the lessons and attitudes he learned from his grandfather.
This episode was guest hosted by Eric Morton who first asked Deierlein, "What did your grandfather say it was like storming the beaches of Normandy on June 6, 1944?" Deierlein responded saying, "I tell you, we had to get up a steep hill in the pouring down rain while we had countless Germans shooting at us. The tone of voice he used, was almost to imply that he was asking me what do you think it was like?" Deierlein continues, "However, he did point out that he was never afraid, and I like to think a lot of my bravery comes from him."
When Morton asked Deierlein what he thought mentally prepared his grandfather for his life, Deierlein responded, "He used to work as a coal miner when he was a boy, this one time, dynamite was blasted from under him burying him under darkness for the night. I asked him if that prepared him for D-Day and he said yes. Just like swimming prepared you for your coma after your car accident because when it came time to be afraid, you weren't afraid; just like I wasn't afraid."
Morton then asked Deierlein what he would most remember about his grandfather. Deierlein responded saying, "He was giving out copies of my book to nurses at the hospital where he later passed away at. He was a true believer in My Positive Perspective. I am not so sure that without my grandfather that I would have come out of the car accident as well as I has. There may not be a My Positive Perspective if it wasn't for my grandfather."
My Positive Perspective is a media outlet believing that improvement in our community will be best achieved by focusing on the good things happening in our world today. Having survived a near fatal car accident as a youth, a shift of perception forced one to have a mentality of always concentrating on the brighter sides of things. This was true, and in my book, Return From a Comatose Mind, this belief was put to the test. Appreciation for life was the biggest thing one took away from my brush with death, and it is because of that gives me such a huge desire to be helpful to many. My Positive Perspective is a way of overcoming challenges.