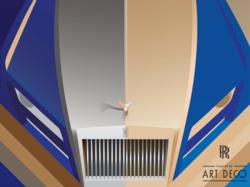 "Strive for perfection in everything you do. Take the best that exists and make it better. When it does not exist design it."
Newport Beach, CA (PRWEB) May 29, 2013
On April 18th, 2013, Rolls-Royce Motor Cars Newport Beach opened its beautiful showroom on Campus Drive for an entertaining event celebrating the launch of the exclusive Rolls-Royce Motor Cars Art Deco Collection.
As one of the only Rolls-Royce dealers in North America to obtain these special vehicles, an Art Deco Ghost and three Art Deco Phantoms were on display; the Art Deco Collection consists of the Ghost, the Phantom Saloon and the Phantom Drophead Coupe.
This style of art and design that became known as "Art Deco" began in Paris in the 1920's, grew rapidly worldwide during its heyday in the 1930's and can still be seen and appreciated today in the beautiful architecture of iconic buildings, and as inspiration for unique fashion, jewelry and art.
The Art Deco theme of the evening was further enhanced with unique presentations by quintessential American jeweler Black Starr & Frost, The Art Deco Society of Los Angeles, The Orange County School of the Arts and Martin Lawrence Galleries who featured works by Erte, whose elegant works and designs perfectly represent the Art Deco period.
VIP guests of Newport European Motorcars were treated to Art Deco themed drinks specially prepared by Hennessey and had the opportunity to taste some of their finest cognacs while listening to tunes played by a Jazz combo from The Orange County School of the Arts. The Hennessey cocktails were all the rage and were deliciously complimented by hors d'oeuvres from Colettes' Catering.
AK Johnston Productions created the Art Deco ambiance in the showroom and around the vehicles with LED up lighting and image projection. The Anaheim Ducks and the Balboa Bay Club generously provided prizes for the Orange County School of the Arts opportunity drawing. It was a beautiful Southern California evening of Art Deco luxury.
For the last three years Rolls-Royce has broken sales records and it is no doubt that these very rare and limited handmade motorcars from the Art Deco Collection will be in very high demand. One can see the current selection we have on hand as well as inquire about a special order from the online showroom at NewportEuropean.com
For Phantom enthusiasts, exterior colors will be available in Infinity Black, Arabian Blue, Powder Blue or Arctic White, and feature a Bespoke, twin coach line with an intricately detailed Art Deco motif. An illuminated "Spirit of Ecstasy" hood ornament, recalling the ornamental glassware of the day, completes the exterior detailing. Inside the Art Deco Phantom's coach doors, touches like Art Deco headrest embroidery, Bespoke inlays on piano black veneer and tread plates with Art Deco motif also bring back the style of the Art Deco period.
Ghost Art Deco Collection motorcars are finished in either Infinity Black or Arctic White with dual Bespoke coach line and the illuminated Spirit of Ecstasy, just as the Phantom. Interior styling includes handcrafted Art Deco inlays, as well as Olympia-inspired motif on tread plates as well as headrest embroidery. A black and white interior design features options between four seat piping colors that takes inspiration from the amazing color palette of the era.
"For over a century a Rolls-Royce motor car has taken inspiration from the prevailing style of its time whilst retaining the marque's unique design aesthetic, Art Deco was defined by theatre, glamour and a sense of excitement. Working to create contemporary interpretations of these classic themes has been enormously rewarding for everyone in my bespoke design team."
Giles Taylor, Design Director Rolls-Royce Motor Cars at the Paris Motor Show in 2012
About Rolls-Royce Motor Cars
Rolls-Royce Motor Cars is the world's leading producer of Bespoke, super-luxury motorcars.
All cars are hand-built by master crafts people at the Home of Rolls-Royce in Goodwood, England.
It takes 60 pairs of hands between one and six months to build a Rolls-Royce motor car, in a tireless pursuit of quality echoing the famous words of company founder, Sir Henry Royce:
"Strive for perfection in everything you do. Take the best that exists and make it better. When it does not exist design it."