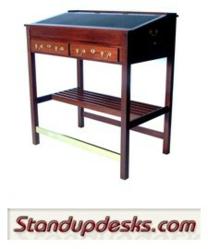 Researchers have linked extended periods of sitting with numerous health problems including cardiovascular disease and obesity.
Akron, Ohio (PRWEB) May 28, 2013
As many workers have experienced, long-term sitting can be a major contributor to lower back pain, neck and shoulder pain, and other health problems.
According to the Mayo Clinic website, researchers have linked extended periods of sitting with a number of health problems, including obesity. Now doctors are confirming that too much sitting can also lead to an early grave.
"Too much sitting also seems to increase the risk of death from cardiovascular disease and cancer," writes the Mayo Clinic's Dr. James Levine. Americans spend half their waking day at a desk. The prolonged sitting leads to the development visceral fat, which generates unhealthy inflammatory cytokines doctors say.
Until now there wasn't much a busy office worker could do to escape the constant demands facing them every day at their work desk. Stand-up desks are ergonomically designed for virtually anyone who has to do a great deal of work at their desk. Stand Up for Your Health by choosing the alternative to sitting--stand for part of the day. The stand-up desk user finds tremendous relief from the pressure created on the lower back from too much sitting.
Read more: http://www.mayoclinic.com/health/sitting-disease/MY02177
Read more: http://pittsburghquarterly.com/index.php/Personal-health/is-sitting-the-new-smoking.html
"Back in 1770 Thomas Jefferson wrote the Declaration of Independence at a stand-up desk he himself made," explains Akron, Ohio businessman Jim Gattuso. "I became interested in stand-up desks because of my chronic back pain, and I thought who better to help me bring back this great idea than my Amish friends who make furniture? Their furniture-making craftsmanship dates back to colonial times using old world techniques, producing furniture that's built to last forever."
All stand-up desks from the Amish Country Furniture Sales are hand crafted to order, with not only the desk height customized for the height of the customer, but also the width (up to 5 feet wide), style, type of wood (oak, cherry, mahogany), stain, and other various options. The company offers computer desks, writing desks, drafting desks and others, with prices starting at just $895.
"StandUpDesks.com offers the only full-size Sit-Stand Executive desk on the market," says Vicki Gattuso. "We call it simply our Sit-Stand Executive and it is a true executive desk, 6' up to 7' wide and up to 42" deep. It has a full set of filing drawers and regular drawers just like any other executive sit-down desk only this desk, with the push of a button, the desk-top along with the center drawer elevate anywhere from 31" to 49". This is especially nice if you share your desk with others of different personal heights. Anyone up to 6'6" should be comfortable using this gorgeous desk."
Custom orders take up to twelve weeks for delivery. Call Amish Country Furniture Sales toll free at (888)384-7883 and visit their web site at http://www.standupdesks.com.