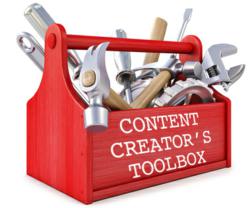 As weeks and months go by, it becomes more and more challenging to generate fresh content ideas. That's where the Content Creator's Toolbox comes in.
Houston, TX (PRWEB) May 29, 2013
The official blog for Resonance Content Marketing now features a regular monthly post focused on the needs of content creators.
The Content Creator's Toolbox presents creative strategies for anyone tasked with producing content for blogs, e-newsletters, podcasts, videos, and other venues.
"When you first start your blog, e-newsletter, or podcast," says Rachel Parker, President of Resonance Content Marketing, "you probably have a ton of great content ideas. But as the weeks and months go by, that barrel starts to run dry, and you need to be proactive about generating new topics."
As a former copywriter with a large advertising agency, Parker knows a thing or two about being creative on demand. "To survive in an agency situation," she explains, "you develop a set of strategies -- a toolbox, if you will -- for situations where you need to be creative on the fly. I've developed my own 'toolbox' over the years, and it's my pleasure to share these approaches with my fellow content creators."
The Content Creator's Toolbox series features simple, easy-to-implement creative strategies that anyone can use. "Most content creators work in isolation, so they need to rely on their own resources for those ideas," says Parker. "The techniques we present are designed for the sole practitioner, but if you can supplement them with some team-based activities, so much the better."
The Content Creator's Toolbox publishes on the last Tuesday of each month on the Resonance Content Marketing Blog.
About Resonance
Founded in 2010, Houston-based Resonance Content Marketing helps companies attract and retain business through engaging content delivered through social media, e-newsletters, blogs, and other venues. Resonance enhances its clients' marketing strategies by developing comprehensive content marketing plans, writing and publishing content on their behalf, and measuring the results to ensure consistent progress.