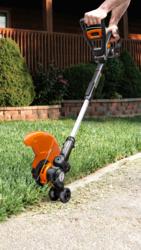 The WORX 20V GT2.0 Trimmer is a powerful grass trimmer, precision edger and mini-mower, all in one lightweight, maneuverable, cordless machine.
Charlotte, NC (PRWEB) May 29, 2013
You'll make dad's day with the WORX 20V MaxLithium™ GT2.0™ (WG160, $119.85), a powerful grass trimmer, precision edger, and mini-mower – combined in one lightweight, maneuverable, cordless machine. It features a telescoping shaft that dad can adjust to match his height.
The 20-volt GT trimmer has nearly twice the battery capacity as its predecessor, plus 2 in. more cutting width (12 in. swath). The trimmer's head tilts 90°, which allows dad to trim underneath decks, shrubs and other obstructions. An automatic line feed and three snap-in spools ensures there's plenty of line to get the job done.
A twist of dad's wrist converts the trimmer into a wheeled, walk-behind edger to cut a keen line along sidewalks, drives and patios. When in mini-mower position, the trimmer mows at a 3-in. height around bushes, trees and yard furniture.
Once the tool is registered, dad will receive free spools for the life of the tool and pay only for postage.
You can grant dad's independence from power outlets by giving him the new cordless version of the popular JawSaw™. The 20V MaxLithium Cordless JawSaw (WG320, $159.99) makes it easier than ever to manage fallen tree branches and thin out deadwood from existing trees and bushes.
The cordless JawSaw weighs 7.9 lbs. (with battery) and typically can make up to 50 cuts on 2 in. branches on a full battery charge. It cuts branches up to 4 in. diameter and is easier and safer to use than most standard chain saws. Dad now can clean up after a storm and when the power is out.
To assure operator safety, the tool's jaw encloses the chain and its teeth hold wood in place while cutting. The cordless JawSaw features Auto-Tension for easy chain replacement and tensioning, plus an automatic oiler system. An optional 5 ft. extension pole snaps onto the tool, enabling it to reach tree limbs up to 12 ft. from the ground.
Better stand back when dad goes hands-on with the new WORX 20V MaxLithium Blower/Sweeper (WG545, $99.99). This mighty, cordless yard machine weighs only 3.5 lbs. and develops a maximum air speed of 120 mph.
That amount of power can clear large patios, driveways and garage floors in no time flat. The blower/sweeper's extra-long, 19-in. tube length and angled tip help access hard-to-reach areas. Its ergonomic design and soft-grip handle provide comfort, increase productivity and help reduce fatigue.
Dad can say goodbye to gas cans, oil and power cords with this quiet, efficient and eco-friendly alternative to gas models. When not in use, the removable 20V MaxLithium battery can be attached to its charger, which is Energy Star Certified. Charging time is 3 to 5 hrs. Finally, a wall-mount bracket is provided for space-saving storage of the blower/sweeper.
These Father's Day gift suggestions by WORX are available at http://www.worx.com , where local retailers also are identified by zip code.
Media Contact: MKM Communications at 847-255-1903 or mkmcomm(at)gmail(dot)com .