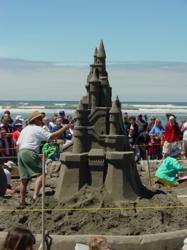 Experience the thrill and witness the skill as sand sculptures are carved to life from the canvas of our white sand beaches.
Long Beach Peninsula, WA (PRWEB) May 29, 2013
Sandsations, a sand-sculpting extravaganza, returns to Washington's Long Beach Peninsula, July 10 through 14, 2013. Attracting casual and professional competitors, the event includes sand-work demonstrations, lessons, the Sand Flea Pet Parade, and the ever-popular Sandsations Beach Competition.
"Accessible venues and a variety of fun beach activities make our sand sculpture festival a premier event," said Andi Day, Executive Director, Long Beach Peninsula Visitors Bureau. "Watching master sand builders up close while they work in three locations is a huge a plus."
"Visitors of all ages can experience the thrill and witness the skill as sand sculptures are carved to life from the canvas of our white sand beaches," Day continued.
New this year, three master sand builders will demonstrate their art, craft and technique to onlookers at the Port of Ilwaco from July 10 through 12, beginning at 10AM and ending at 6PM. On the same days, same times, four master sand builders will captivate onlookers in downtown Long Beach as they construct amazing sand sculptures. Long Beach events will take place on Third Street, adjacent to Veterans Field.
On Friday at 5PM, the public is invited to participate in free, sand-sculpting lessons, which will be offered near the Bolstad beach approach in Long Beach. Nearby, a festive beach bonfire will be lit at 8PM for the enjoyment of all visitors. The roasting of marshmallows is welcome.
Sandsations culminates on Saturday with the much-anticipated Sandsations Beach Competition. Youth, novice and pro sculptors will have five hours to transform beach sand into imaginative sculptures with an underwater theme.
Competition check-in and plot assignments start at 8:30AM, construction begins at 10AM on the outgoing tide and ends at 3PM for judging. The awards presentation will take place at the event tent at 3:30PM, before the incoming surf slowly washes away even the largest sculptures. The event will take place along the shoreline, adjacent to the Long Beach boardwalk and near the Bolstad beach approach.
The judges will vote on the best in four categories – masters, intermediate, novice, and family – for overall appearance, creativity, teamwork, effort, design, suitability to sand, and intricacy. Gift baskets and cash prizes up to $1,200 will be awarded. Registration fees range from $65 for masters to $1 each for children under 12, who will also be recognized for their participation.
Also on Saturday, at 12:30PM, visitors are invited to watch or enter the Sand Flea Pet Parade sponsored by the South Pacific County Humane Society. All pets are welcome to this free event with prizes awarded in a variety of categories including "Beachiest" Pet, Best Pet Trick, Pet-Owner Lookalike and Best Costume, among others.
Throughout the day, beachgoers can enjoy free hot dogs served by the Long Beach Kiwanis.
Long Beach is Washington's quintessential beach town, and Ilwaco a historic, scenic, fishing port. Both cities are located on the Long Beach Peninsula, approximately two hours from Portland and a three-hour drive from Seattle.
The Long Beach Peninsula offers an expansive, white-sand beach, half-mile long boardwalk, an 8.5-mile coastal trail, two historic lighthouses, wildlife refuges, as well as state and national parks. Visitors enjoy colorful kite and gift shops, galleries, one-of-a-kind museums, and timeless beach treats – double scoops of ice cream and saltwater taffy. Ocean-view and waterfront lodging and great places to eat round out the mix.
For event details, schedules and registrations, please access http://www.sandsationslongbeach.com. For destination information, call the Long Beach Peninsula Visitors Bureau at 800.451.2542 or access http://www.funbeach.com.