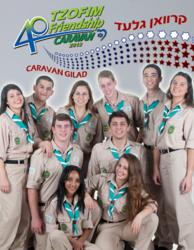 Irvine, CA (PRWEB) May 29, 2013
The Israel Scouts (Tzofim in Hebrew) Friendship Caravan is part of a larger delegation of approximately 100 teenage scouts who travel to North America each summer to represent the land of Israel. On July 1 at 7 p.m. the Tzofim will delight the entire Orange County Jewish community with their exuberant performance at the Merage Jewish Community Center in Irvine. Using song, dance, and storytelling, the Israel Scouts celebrate the Jewish heritage and bring the sights and sounds of Israel to life. Tickets for the show are $10 each for the public and $5 each for campers and family members of JCamp. Children under 2 are free. For tickets or more information, go to the Merage JCC website or call 949-435-3400. Check out the Tzofim on YouTube.
The Merage Jewish Community Center is located at 1 Federation Way in Irvine. The mission of the Merage JCC is to enrich our Jewish identities and create a vibrant community through excellent programs and services rooted in shared values and traditions.