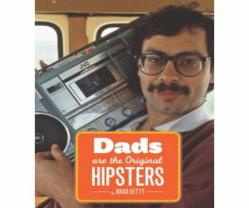 Boston, MA (PRWEB) May 31, 2013
The editors at cult-favorite gift website Shot Hot Coffee Out of Nose have once again compiled their annual list of the Top 10 Unique Fathers Day Gifts. At the top of this year's list is the hilarious book 'Dads Are The Original Hipsters' which features photographs and commentary about fathers before they were burdened with all the responsibility of fatherhood. The book explores many funny themes related to Dad's glory days including his ability to master an arcade game while wearing short shorts and a tight t-shirt. This is the perfect gift for anyone who loves to tease their father. Also on this year's list is the vintage Farah Fawcett poster circa 1976. This iconic poster was a staple in every boy's bedroom throughout the 70s and 80s and it will remind your Dad of his lost youth.
"Fathers Day is a great time to honor your Dad with a gift that truly speaks to his personality" said Chet Richfield, editor of Shcoon.com. "In today's world Dads carry a great burden and it's a wonderful thing to give Dad a unique Fathers Day gift that can make him laugh." added Richfiled.
Top 10 Unique Fathers Day Gifts:
1) Dads Are the Original Hipsters (book) - $11
2) Farrah Fawcett Poster circa 1976 - $7
3) Kettle Pizza Grill - grills perfect pizzas every time- $130
4) Remote Control Beer Cooler - bring the beers to your friends - $69
5) Goatee Shaving Template - shave the perfect goatee effortlessly - $20
6) Butt/Face Towel - labeled on each half for butt or face - $15
7) Waring Professional Milkshake Maker - just like the pros use - $138
8) Backyard Beehive Starter Kit - become a beekeeper - $199
9) 'I Tried It At Home' t-shirt - $12
10) Pee Pro- electronic male urination game - $12
Shot Hot Coffee Out of Nose is the Internet's purveyor of unique, affordable and memorable gifts for all occasions. The most unique Fathers Day gift ideas can be searched easily on the website as well as gifts for several other occasions like Mother's Day, Graduation, Valentines Day and Christmas. You can check out hundreds of fun and unique gift ideas at their website http://www.shcoon.com.