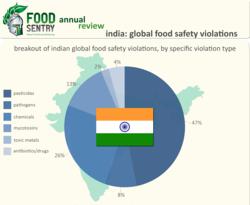 Albuquerque, NM (PRWEB) May 28, 2013
Food Sentry, the recently launched global food monitoring service, has released its latest report on international food safety violators. While they previously released data on China and US violations, this time their topic is India.
Food Sentry's analysis took into account 15 months' worth of reported food safety problems specific to India. Data from food testing laboratories from around the world was examined and analyzed to identify specific food risks associated with Indian food exports.
According to Food Sentry's Chief Operations Officer, Scott Witt, the findings give consumers cause for concern.
"Our analysts identified several serious concerns with India's food exports. These are problems that the American consumer needs to know about."
Here is an abbreviated summary of Food Sentry's findings. Read the full report here.
Pesticides were reported to be the number one food safety problem, accounting for 47 percent of all reported food safety violations for India.
Chemicals were the next most frequently reported problems. Lab testing found food products containing calcium carbide, sulfur dioxide, Sudan IV dye, anthraquinone and ethoxyquin.
Mycotoxins were the third most frequently found violation. These were primarily recorded in nuts, seeds, herbs and spices. These are toxins produced by fungi, most often by species of Aspergillus mold.
Food Sentry's analysis also discusses the likelihood of encountering India's risky products in the marketplace.
About Food Sentry
Food Sentry is a subscriber-based global food monitoring service that provides important and timely information on food product safety from around the world to protect consumers. Their mission it to help consumers make educated choices when selecting their food products.