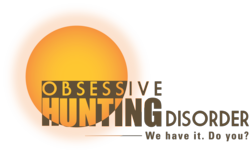 Don't miss the opportunity to grow our Hunting Family and get kids involved.
Lake Geneva, WI (PRWEB) May 29, 2013
Nothing gets a person's heart pumping and hair standing up on their neck like the sound of a Turkey gobbling in the woods. With the end of Turkey season nearing, now is the time to use the interactive hunting map to hunt smarter. Turkey hunters must cover a lot of ground, unlike deer hunting where the hunter sits on stand for hours at a time. This means that Turkey Hunters get exercise and get to learn a lot about a hunting area. Not only should hunters be looking for Turkeys and turkey sign, but they should also be looking for deer beds, deer droppings, rubs, scrapes and any other animal signs. This is when a veteran hunter can show and explain all of the various animal signs to the rookie hunters.
ObsessiveHuntingDisorder.com recommends using smart phones to enter information into their Huntin' Areas. These observations will allow hunters to better track Turkey movements. Animals sign is animal sign no matter what time of the year it is. When information is collected and put together it will tell a story and the hunters can learn a lot from that story. Hunters can also use ObsessiveHutningDisorder.com to explain how weather, lunar and solar variable affect animal behavior. Another reason Turkey hunting is great for beginners is that you can let the beginners play with the various turkey calls like shock calls, friction calls and mouth calls.
Duane Keenan, avid hunter and founder of ObsessiveHuntingDisorder.com, had this to say, "I Started taking my kids Turkey hunting at about age 6. I tried to take my kids deer hunting, but just sitting and waiting was too hard for them. Hearing gobblers and chasing after them was really exciting for my kids. Letting them play with the various calls can also be a lot of fun for them." The Huntin' Area page on ObsessiveHuntingDisorder.com is a great tool for Turkey hunters. When accessed from their smart phones the website uses the phones GPS to show the location of the hunter in relation to the other information that the hunter has put on their Huntin' Area page. The user can put drop icons on the map with names and descriptions to help them remember those hidden places, strutting areas, dusting areas etc.
Eric Hahn, an avid user of ObsessiveHuntingDisorder.com provided this feedback when asked about his favorite feature, "The ability to put icons, labels and texts on my Huntin' Area map allows me to take notes and put those notes where they belong; on the map. Now I can go back and see where I have roosted birds in the evenings, seen turkeys feeding and strutting. This has allowed me to setup between the roost and the strutting areas year after year".
In closing Duane Keenan had this to say, "We don't predict the best times or places to hunt. We help hunters map out their hunting areas, gather their own data and decide what data they are most interested in, so that hunters can make their own decisions and predictions." Here is the raw data that Duane is referring to: six lunar variables (moonrise, moonset, moon transit, moon underfoot, moon phase, moon age), four solar variables (sunrise, sunset, sun transit, photo period), and six weather variables (current temperature, humidity, barometric pressure, forecast, wind, conditions).
ObsessiveHuntingDisorder.com allows a hunter to get that information in less than five seconds.
ObsessiveHuntingDisorder.com calculates the information for the hunter's exact location, and can even calculate for days in the past or in the future.