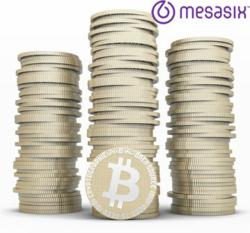 The internet was built on openness and transparency and I feel bitcoin embraces both.
Dallas, TX (PRWEB) May 28, 2013
Performance marketing agency mesasix is proud to announce that they accept bitcoins (BTC) as a payment method as of June 1st 2013.
Being on the cutting-edge of technology developments is what sets mesasix apart from the competition, as such, founders Steven Maroulis and Robert Hoddenbagh made the decision to start accepting bitcoins.
The decision was not only a business development one, but as technocrats, the crew at mesasix also sympathize with the new currency from an ideological standpoint. "In many aspects, this is what the internet is about, decentralization and bringing power to the people. The bitcoin currency is a perfect example of what we as a society are capable of when we collaborate. The internet was built on openness and transparency and I feel bitcoin embraces both," added founder Steven Maroulis.
The decision does not come unexpected, as the agency's development department has already started working on several bitcoin-related projects. Included in the team are several robotics specialists who have been analyzing and optimizing the currently available "mining rigs" to establish points of improvement. "Mining for bitcoins has become nearly impossible for hobbyists given the technological advances made in hardware, making this market extremely competitive and ready for commercialization," according to Florian Mertens, lead developer at mesasix.
Aside from the hardware perspective, there is also an emphasis on education. "The average American does not know much about bitcoins yet, and very few are aware they can start mining for them within seconds," said co-founder Robert Hoddenbagh. One of their new projects is believed to bring more attention to the bitcoin economy, although details remain under wraps for now.
If you are looking for a highly specialized digital marketing agency with expert knowledge in search engine optimization, conversion rate optimization and brand identity, you can now spend your bitcoins at the Dallas-based agency mesasix. For more information, visit their website now, or just say "hi" by shooting an email to hello[at]mesasix[dot]com.