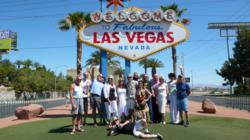 Las Vegas has become our new sister city for mid-century desert modern design."
Palm Springs CA (PRWEB) May 28, 2013
Members of the Palm Springs Modern Committee http://psmodcom.org recently met with a group of Las Vegas residents who are equally passionate about preserving mid-century modern architecture. A driving tour of Las Vegas' Paradise Palms neighborhood organized by "Uncle" Jack LeVine of Very Vintage Vegas took the special group past early 1960s modern tract homes designed by the firm of Palmer and Krisel. These are the same architects whose designs for the Alexander Construction Company in Palm Springs have become world renowned for their classic mid-century look.
Paradise Palms http://www.VeryVintageVegas is ground zero for the growing movement in Las Vegas to celebrate and restore the city's surprisingly large inventory of postwar modern homes. Located not far from the Las Vegas strip, Paradise Palms shares a similar history of celebrity ownership as the Alexander Houses in Palm Springs. Some of Paradise Palms' more famous residents include Bobby Darin, Johnny Carson, Joe Louis, Phyllis Diller, Debbie Reynolds, Shecky Greene, Juliet Prowse, and Dionne Warwick.
Said Palm Springs Executive Director Nickie McLaughlin who organized the rendezvous, "We were overjoyed to meet so many fellow modernists who share the same passion for preserving our postwar modern heritage." She added, "Las Vegas has become our new sister city for mid-century desert modern design."
About Palm Springs Modern Committee
The Palm Springs Modern Committee (PSMODCOM) is a non-profit organization dedicated to the appreciation and preservation of Desert Modern architecture and design. We accomplish this through education, advocacy for threatened buildings, promotion of heritage tourism, and the celebration of successes in preservation and adaptive reuse.
For additional information about PSMODCOM, please visit: http//http://www.psmodcom.org.
Contact: Nickie McLaughlin
Palm Springs Modern Committee