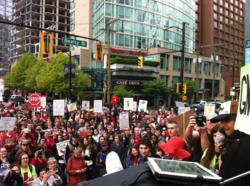 "Mother Earth doesn't deserve this, we're marching for our children, we're marching for humanity." Ra'am Ayan (Swami G)
Vancouver, BC, Canada (PRWEB) May 31, 2013
Saturday, May 25, 2013 was a pivotal day across this planet as over 36 countries, 300 plus cities participated in organized marches against GMO food producer Monsanto. From 1,000-2,000+ people showed up at the March Against Monsanto Vancouver rally outside the Vancouver Art Gallery and chanted along the march to Rogers Arena, from 11 am – 1pm, demanding their food sovereignty, and the right to know what they're putting into their bodies. It was a very positive vibe representing a wide demographic of people. Highlights included a very rousing speech by Mr. Tony Beck of GE Free BC, and live performance entitled
"Monsantrocity- March For Humanity" by Swami G, which has since gone viral seen by over 22,000 people on YouTube since Monday May 27th
It has been shared on NaturalNews (450K Fans), Occupy (170K Fans), Food Integrity NOW, and will be shared via newsletter with the fan base of The Future Of Health NOW (100K). (See Below)
This piece has triggered a wave of enthusiasm, encouragement and support across the web due to its unconventional use of storytelling, spoken word, rap, song and TruthTelling.
WATCH HERE: http://www.youtube.com/watch?v=Ly_jO6Kxd2E
About Swami G:
Bio: Raamayan (http://raamayan.com), AKA Swami G is committed to truth telling through music and art. A yogi, musician and entrepreneur, he runs 2 international health and wellness companies and is creating a web based platform for media.
His media startup is called ThaTruth.IS (http://www.thatruth.org/) and is gearing up to tackle some of the biggest issues of our time, starting with our food. The wave has just begun.
Evolution of the Music Video: Raamayan was on the plane from San Francisco to Vancouver may 14th and he saw the facebook notification about March against Monsanto, in a flash of inspiration, he wrote the entire rap in 10 minutes.
He met his producer Brook Lotzkar of Creative Inventory on May 18th with the idea, who said he was absolutely nuts to try and film, record and produce the whole thing in 3 days, but came on board anyways. With no sleep for 72 hours, lots of chai from Chai lounge, and a lot of support from an incredible cast and team, the music video became a reality.
Here are some of the comments by Fans:
Iris Sullivan This is really good
Krissy Huden Mitchell Love this!
Elena Quintero A MUST WATCH!
Janet Kaiser Best seven minutes of music + message on the net just now!
Lina Bovaird OMG ! This needs to be VIRAL! Everyone should share this truth hurts! Only when we see it we CAN Change it!
Lionel Mileman .
Lorraine Smith Sharing
Christopher Omaley Well said that chap.............xxx
Lynn Marie Winters I SHARED this SEVERAL times!
Lynn Marie Winters Keep the SHARE going, TOO IMPORTANT to get stopped here!
For media interview, please contact Alice Zhou at Gracious Host Events & PR.
Alice Zhou
President
Gracious Host Events & PR
Tel: 604 773-5231
Email: alice(at)gracioushost(dot)ca
http://www.gracioushost.ca