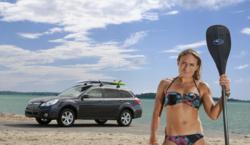 Annabel blitzed the opposition and went on two weeks later to take the overall world title 2012.
(PRWEB) May 28, 2013
Subaru of New Zealand is thrilled to announce a new athlete to their sponsorship portfolio. Enter, the World Champion Stand Up Paddleboarder, Annabel Anderson.
The relatively new sport of paddleboarding has taken the world by storm and so has Annabel, who has been described as 'New Zealand's newest sporting sensation'. As Annabel puts it, "I've always wanted to be the best in the world at something and right now I'm living my dream."
In just two years, the Wanaka-raised beauty has caused huge waves in Stand Up Paddleboarding by becoming a world champion and also won the most prestigious race on the world racing circuit - The Battle of the Paddle, sometimes winning against the guys as well.
We would be proud enough to call her New Zealand's newest sporting sensation, but it would appear that her appeal has gone global. Due to her appearance last September 2012 in Orange County California at the Rainbow Sandals Gerry Lopez Battle of the Paddle, the so called "Super Bowl of Stand Up Paddle Racing, Annabel has become a worldwide sporting sensation.
In front of a crowd of 15,000 beach-goers and a global webcast audience, history was being made. Anyone and everyone from all four corners of the globe converged on Doheney State Beach to stake their claim in the world's fastest growing water sport.
Annabel blitzed the opposition and went on two weeks later to take the overall world title 2012. Since then she has won three major international events outright against top international men's fields, including the Stand Up World Series in Oleron, France and multiple outright victories over men racked up in 2013. This girl is going places.
Wallis Dumper, Managing Director of Subaru of New Zealand says, "Annabel's partnership with Subaru makes sense. The Subaru brand is a bold automotive brand with a unique voice; confident without arrogance, sophisticated but never pretentious, adventurous but always in control, just like Annabel.
Subaru drivers enjoy an active lifestyle and want a car that can take them anywhere - our Subaru Outback and Subaru Forester particularly appeal to this lifestyle, Stand Up Paddleboarding included."
Annabel adds; "My life is about challenging myself, fueling my body and mind through adventure and fitness striving for performance excellence while always enjoying the journey along the way. Subaru is a perfect fit for me as it embodies the same values I live by and compliments my lifestyle, training and competitive demands".
As the fast growing water sport of paddleboarding grows, so will the adherents to the sport, young people, families and even an older demographic, determined to keep up and stay fit. They are all fans of the outdoor life and they need a car which can 'keep up' with their lifestyle and activities.
For more information on Annabel, visit http://annabelanderson.wordpress.com/ or simply Google Annabel Anderson and you will be entertained for hours.
To find out more about Subaru's new brand partnership with Annabel Anderson, visit: http://www.subaru.co.nz/annabel-anderson