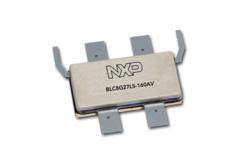 Eindhoven, Netherlands (PRWEB) May 28, 2013
NXP Semiconductors N.V. (NASDAQ:NXPI) today announced its new Gen8+ LDMOS RF power transistors – an expansion of its eighth-generation LDMOS product line for wireless base stations with a strong focus on TD-LTE. As China prepares to roll out the world's largest 4G network, Gen8+ enhances NXP's TD-LTE portfolio – the most comprehensive LDMOS portfolio for TD-LTE available today – and delivers significant improvements in performance, flexibility and cost-efficiency. The first Gen8+ device to be introduced, the BLC8G27LS-160AV, is the world's smallest and most cost-effective solution for 15 W and 20 W power amplifiers for active antenna outdoor base stations (2.6 GHz). The device can handle up to 5 TD-LTE carriers simultaneously and delivers high efficiency over the full band (2.5 to 2.7 GHz). NXP will showcase its first Gen8+ TD-LTE products at the MTT-S International Microwave Symposium 2013 next week in Seattle, Washington (booth 1709).
One of the groundbreaking features of the Gen8+ portfolio is the use of air cavity plastic (ACP) packages. ACP is both less costly and more flexible than ceramic packages, which means that new product variants can be introduced more quickly. The new ACP packages also allow the use of improved passives, which enhance performance by reducing power consumption while increasing gain and efficiency. Gen8+ complements a wide range of other package options, including QFN, OMP and ceramic.
The Gen8+ portfolio is initially designed for base station applications at frequencies between 2300-2700 MHz. As an extension of existing NXP LDMOS product families, Gen8+ expands the wide range of power levels in each band, ranging from 5 watts to 240 watts. The impressive power capabilities and reduced footprint of Gen8+ means that further cost savings are also possible.
"Optimized for wireless base stations supporting TD-LTE networks, the launch of Gen8+ coincides with the upcoming rollout of the world's biggest 4G network in China. By providing the most comprehensive RF power portfolio of its kind, we are focused on enabling our customers to offer the best possible quality of service at the lowest cost," said Christophe Cugge, director of marketing, base station power amplifiers, NXP Semiconductors. "Building on NXP's strong heritage in RF power, Gen8+ LDMOS technology offers unprecedented performance, reduced power consumption and higher efficiency at a significantly lower cost – delivering a competitive edge which we plan to make available across all other base station applications in the near future."
Availability
Engineering samples of Gen8+ ACP products are available immediately to qualified customers. Product samples of the BLC8G27LS-160AV and other Gen8+ LDMOS transistors will be available in Q3 2013.
Links

About NXP Semiconductors
NXP Semiconductors N.V. (NASDAQ: NXPI) provides High Performance Mixed Signal and Standard Product solutions that leverage its leading RF, Analog, Power Management, Interface, Security and Digital Processing expertise. These innovations are used in a wide range of automotive, identification, wireless infrastructure, lighting, industrial, mobile, consumer and computing applications. A global semiconductor company with operations in more than 25 countries, NXP posted revenue of $4.36 billion in 2012. Additional information can be found by visiting http://www.nxp.com.
Forward-looking Statements
This document includes forward-looking statements which include statements regarding NXP's business strategy, financial condition, results of operations and market data, as well as other statements that are not historical facts. By their nature, forward-looking statements are subject to numerous factors, risks and uncertainties that could cause actual outcomes and results to be materially different from those projected. Readers are cautioned not to place undue reliance on these forward-looking statements. Except for any ongoing obligation to disclose material information as required by the United States federal securities laws, NXP does not have any intention or obligation to publicly update or revise any forward-looking statements after NXP distributes this document, whether to reflect any future events or circumstances or otherwise. For a discussion of potential risks and uncertainties, please refer to the risk factors listed in NXP's SEC filings. Copies of NXP's SEC filings are available from the SEC website, http://www.sec.gov.