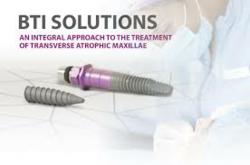 Smile With Confidence
Hove, East Sussex (PRWEB UK) 30 May 2013
Five members of East Sussex-based Brighton Implant Clinic's award-winning dental surgery team will be attending a teaching seminar on dental implant and PRGF treatments at the Biotechnology Institute (BTI) in Vitoria, Spain. The seminar will give experienced dental implant surgeons the opportunity to learn more about effective dental implant and PRGF treatment options from some of the leading dental professionals in Europe.
"Innovations and improvements in dental procedures and technology are taking place all the time. BTI offers cutting-edge resources for learning about the most recent developments in dental implant placement and PRGF plasma technique, among other treatments," says Dr. Bruno Silva, Principal Dentist at Brighton Implant Clinic. "Our increased expertise will enable us to offer even higher-quality treatment options to our patients than ever before."
Brighton Implant Clinic specializes in dental implant surgery, and offers patients competitive pricing for dental implants that are almost half of what the average industry costs are for dental implants in the UK. All teeth are custom-made for each individual; additionally Brighton Implant Clinic's skilled technicians create teeth using state-of-the-art technology, which is capable of milling teeth in multiple material types and with nearly 100% matching to patients' teeth size and dimensions.
"Our practice is premised upon administering world-class patient care with compassion and top-quality service," continues Dr. Silva. "Our ongoing efforts toward equipping ourselves with the latest knowledge and tools are testament to our mission to ensuring our patients' well-being."
Brighton Implant Clinic has three clinic locations located in Hove, Halisham, and Brighton, and is a two-time award winner of the Private Dentistry Awards. The practice's staff has collective experience of decades of implant placement and treatment services, and is internationally reputed for its world-class patient care and top-quality dental implant and treatment services, with patients venturing from all over the UK and as far as Australia and the United States for treatment. Please visit http://www.brightonimplantclinic.co.uk/ to learn more about the practice's services and schedule a free initial consultation.