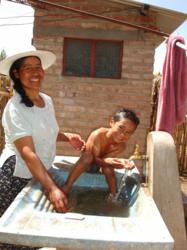 Our role is to walk with communities to a place where they no longer need our assistance…
Phoenix, Ariz. (PRWEB) May 28, 2013
A recent Tufts University study showed Food for the Hungry's (FH) child health and nutrition work in Bolivia is impacting lives, years after the program's conclusion. Stunting among children in Potosi and Cochabamba areas of Bolivia decreased 25 percent during the life of this program. Three years later, the study showed that stunting continued to decrease another 15 percent. The program ran from 2002 to 2008.
The study was presented at the April 2013 meeting of the CORE Group, an association devoted to advancing community health worldwide. Beatrice Rogers, researcher and Tufts University professor, presented the findings during a session called, "But We Will Always Be Here! How to Assure Sustainable Benefits after Food Aid Programs Shut Down."
Not only was ongoing success discovered in overcoming stunting, exclusive breastfeeding and prenatal care also showed positive improvement. During the program, mothers seeking prenatal care rose from 50 percent to 84 percent. This trend continued after the project, with prenatal care rising to 91 percent three years later. Mothers who exclusively breastfed their child increased from 67 percent to 93 percent during the project, and continued to rise to 100 percent three years after the project's end. Similar trends were seen in terms of children who were immunized and who had their growth monitored.
"These results reflect the essence of the FH mission," said Dave Evans, FH's U.S. President. "Our role is to walk with communities to a place where they no longer need our assistance—to a destination where communities continue the process of transformation after FH has exited."
"We begin with the end in mind," said Evans. "We couldn't be happier about these results, as well as the opportunity for them to be shared among other leaders from around the world. We all have a lot to learn from each other."
The CORE Group 2013 spring meeting included 271 international development and health experts, practitioners, policy makers and researchers. Ninety-eight organizations were represented.
The Tufts study in Bolivia focused on programs led by FH, CARE, Save the Children and Adventist Relief and Development Association. The study was funded by USAID to examine how organizations can ensure that program benefits continue after aid organizations are no longer present in communities.
###
Founded in 1971, Food for the Hungry provides emergency relief and long-term development programs with operations in more than 20 countries to help the world's most vulnerable people. Learn more by visiting http://www.fh.org. Social connections include http://www.facebook.com/foodforthehungry and http://www.twitter.com/food4thehungry.