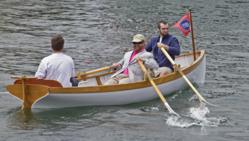 Newport, Rhode Island (PRWEB) May 28, 2013
On Saturday, June 1, students from the IYRS Boatbuilding & Restoration Program will launch their careers into the workforce, along with the boats they restored this past year, at the school's annual Graduation & Launch Day. International sports figure and North Sails President Ken Read will help mark the start of students' career paths as featured graduation speaker at this marine trades and technology school in Rhode Island.
Read is a fitting person to clue IYRS graduates into the opportunities that lie ahead for those with craftsmanship skills and a passion for working with their hands around boats. Through sailing, Read built a career that, as he says, "I would not trade with anybody." He grew up sailing at Barrington Yacht Club and became a global name in the sport as a sailmaker and multiple world-class champion, America's Cup sailor, and two-time Volvo Ocean Race skipper for Puma Ocean Racing. As of January of this year, he became president of North Sails and now works from his office at the IYRS Mill Building.
Read will talk to students and IYRS supporters on graduation day, sharing his advice and the story of his career path in a field that held opportunities he never even dreamt were possible as a young man. But he laments that not enough young people know about the career opportunities his field holds and is an ardent supporter of IYRS as a school that is helping to effect change on that front: "In the United States, we don't do a great job of creating the educational means for people to take the marine industry or professional sailing seriously as a life goal," said Read. "Places like IYRS are so badly needed."
The public is welcome to join Launch Day festivities and see the fine craftsmanship produced by students. Graduation ceremonies begin at the IYRS Newport campus (449 Thames Street) at 10:00 am inside Restoration Hall. After the inside portion of the ceremony, the crowd will migrate to the school docks to watch the launching of the fleet.
Graduates of the IYRS Composites Technology and Marine Systems programs, who matriculated from these six-month programs this past February, will also be honored on June 1. Eighty-six percent of the graduates from these programs are now working in the fields they trained for, or have continued on to other IYRS programs to round out their training.
Composites Technology grads are working with companies located on the U.S. East Coast, Hawaii and the U.K. that are using composite materials to build a range of structures: from superyachts to custom surfboards, to architectural designs. Marine Systems grads are working onboard boats or at marine businesses located along the U.S. East Coast.
On Graduation Day, Boatbuilding & Restoration students will launch a fleet of Beetle Cats, a small 12-foot catboat whose design dates to 1921; an elegant 25-foot twin-cockpit motor launch that has been restored to yacht-quality standards with teak decks and a double-planked mahogany over white cedar hull; a Herreshoff Fish-Class sloop, a 20-foot design created in 1916 when Nathanael Herreshoff expanded the lines from his well-known 12 ½ sailboats; and an 11-foot Class B One-Design frostbite dinghy, a design that was originally produced at the Herreshoff Manufacturing Company in the 1930s.
Two graduates of the Boatbuilding & Restoration Program will continue their studies in Rhode Island at Roger Williams University, taking advantage of a new program launched this past winter where IYRS students can follow a direct pathway from their experiential training in craftsmanship and technical skill to a comprehensive college education.
IYRS attracts an international class of students each year to its three full-time programs. This year's graduating classes, including those from all three programs to graduate in 2013, include students from 14 states as well as Australia, Bermuda, Grand Cayman, South Korea and the United Kingdom.
IYRS is a marine trades and technology school that trains individuals for careers in the marine industry and associated fields that utilize wood- and composites-building technology. The school trains craftsmen and skilled technicians in three full-time programs—in Boatbuilding & Restoration, Marine Systems, and Composites Technology—that all emphasize experiential, hands-on learning and career preparation. IYRS maintains two campuses in Rhode Island: a waterfront campus on Newport's historic Thames Street, and a Bristol facility located amidst an active hub of composites- and marine-industry activity. The school's Composites Technology Program is sponsored by the U.S. Department of Labor, Employment and Training Administration.
For more information, visit http://www.iyrs.edu