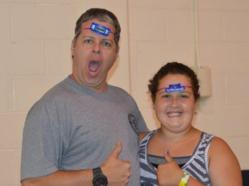 "It's not uncommon that we hear from parents with an inspiring story of how much weight everyone has lost and how much closer they have grown as a family," commented John Gordon, CEO
Asheville, NC (PRWEB) May 29, 2013
BalanceME, one of the country's leading summer weight loss camps for teens, joins the nation in celebrating Family Wellness Month. May is a time to bring awareness to families' physical, emotional, and relational health.
BalanceME weight loss camps work with adolescents 10 to 20 years old to help them lose weight, get fit, and become emotionally healthier. BalanceME involves the family, too, in order to provide support for the camper and help the entire family improve their family dynamic.
"Our experience has been that having the entire family eating better and exercising more increases our camper's ability to maintain success long-term almost exponentially," says John Gordon, BalanceME CEO. "It's not uncommon that we hear from parents with an inspiring story of how much weight everyone has lost and how much closer they have grown as a family."
BalanceME has some of the best results among weight loss camp for teens with an average weekly weight loss of more than 4 pounds. BalanceME also incorporates their proprietary Health Score which measures physical changes, strength and cardiovascular improvements, self-esteem gains, and more. The BalanceME approach offers culinary and nutrition education, activities and skills development, along with cognitive behavioral therapy largely focused on motivation and self- esteem.
Families often ask for BalanceME's insight and experience in helping families get healthier. In support of Family Wellness Month, BalanceME offers the following Top Ten Tips for Families Looking to Get Healthier Together:
1. Clear out the pantry. Get rid of the temptation to eat the junk by leaving it at the store.
2. Buy a journal and write it down. What you eat and your activity.
3. Role model. You can't ask someone to do something you won't do yourself.
4. Don't make food a reward.
5. Set goals. For instance: the number of workouts per week, run a 5k, desire to fit into an outfit or make the basketball team.
6. Reward the behaviors, not the results.
7. Don't be the food police. Make it about whether these decisions fit the goals.
8. Try new foods or prepare them in new ways.
9. Involve the family. In food shopping, preparation, exercise
10. Make it simple. Walk the dog, take a bike ride, play Wii fit.
BalanceME weight loss camp for teens teaches campers to live a healthy lifestyle. These skills are effective for campers beyond this summer weight loss camp and into school, family life, and adulthood. Families interested in enrolling their child at BalanceME can contact John Gordon at (800) 975-0435 or visit our website, http://www.BalanceME.com, for more information.
###
BalanceME, weight loss camp for teens, were created in response to the growing obesity epidemic and the unmet needs for a realistic, scientific, and personalized approach to fitness and weight loss. The BalanceME approach, called the ME Plan, is designed to Motivate & Educate on diet + activity + lifestyle changes. Founded by professionals and guided by experts who provided leadership to some of the largest behavioral health, mental health, and treatment programs in the country, BalanceME is working to become the leader in fitness and weight loss programs. BalanceME operates three summer camps in Cape Cod, Massachusetts and Santa Cruz, California. For additional information please visit http://www.balanceme.com or call (800) 975-0435.