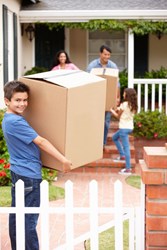 Most people only look at the timeline, they need to look at their entire financial picture.
Orange, CA (PRWEB) May 30, 2013
Scott Schang has met many people who have lost their home to foreclosure. People who are now trying to purchase again, however have been given bad advice by banks. There are many people who have lost their homes to foreclosure in the last five years who believe they will soon be eligible to buy again, sadly they find out at the last minute that they still have a few years before they can be approved for a loan.
"The most common misconception about buying after a foreclosure is that people tend to countdown from the month and year that they vacated their property," says Scott Schang, a branch manager from Broadview Mortgage. "They need to countdown from the date that the title switched from their name into the bank's. Otherwise, they're creating a false hope for themselves."
According to current lending guidelines, the date that a bank officially takes possession of a property begins when the grant deed is transferred into the bank's name. The time a homeowner has to wait until they can buy again will range from 3 years (FHA) to 7 years (Conventional) after a foreclosure.
"We've had families that were ready and anxious to start shopping for their new home based off incorrect information they received, only to find out that they had to wait another year or two because they calculated the date incorrectly," says Schang. It can take over a year and up to two years for a bank to officially foreclose and take possession of a property.
"It can actually work to a family's benefit if they have to wait a little longer. It allows them to work on rebuilding their credit and positioning themselves correctly to take advantage of the market," says Schang, who advises foreclosure families on a daily basis. "There's a tendency to only look at the timeline, they need to look at their entire financial picture. We often help families improve their credit and go beyond qualifying, we can help them be competitive in this seller's market."
Broadview Mortgage is a community based lender that seeks to educate and empower consumers. They are based out of Orange, California and have been in the mortgage industry since 1988.
For more information about boomerang buyers and the mortgage industry, please contact the author at 714-244-7368.