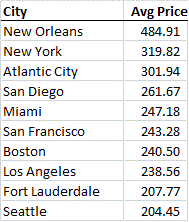 Hotels on 6th street will be virtually sold out on 4th of July. As a result, eleventh-hour bookers might be forced to pay as much as $500 to $600 for the cheapest available double rooms."
Jericho, NY (PRWEB) May 28, 2013
As home to the famous 6th street, and the Mardi Gras festival, New Orleans has developed into a popular July 4th destination as well. New Orleans is currently the most expensive United States destination for the popular Independence Day Holiday. This distinction, based on the cost of lodging overnight there, is based on a survey conducted by HotelsCheap.org.
The survey evaluated 20 popular U.S. travel destinations, analyzing the average price for a hotel room in the city. Hotels ranging from 2 starts to 5 stars were included in the study, an average price was calculated for all hotel rooms to determine the average rate for the city. In New Orleans, out of town guests will have to pay an average of $484 per night for the cheapest double room. This figure easily ranked New Orleans as the number one most expensive destination on the survey.
And procrastinators should not expect any last-minute deals either, as Robert Bruce from HotelsCheap.org cautions. "Hotels on 6th street will be virtually sold out on 4th of July. As a result, eleventh-hour bookers might be forced to pay as much as $500 to $600 for the cheapest available double rooms."
The second most expensive destination according to HotelsCheap.org's survey is New York. At present July 4th travelers will have to spend a minimum of $319 per night to visit the city that never sleeps. Following New Orleans and New York comes Atlantic City. The cheapest room in this New Jersey gaming destination will run $301 for an overnight stay on 4th of July weekend.
The following table shows the 10 most expensive destinations for 4th of July weekend travelers based on HotelsCheap's survey. The rates indicated reflect the price for the cheapest available double room in a centrally located, for 2 star to 5 star hotels.