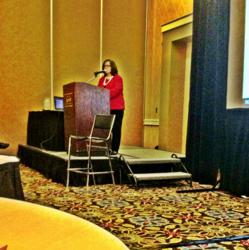 It's so easy to put off decisions, or put off getting started. The incredible advantage of starting early cannot be overstated.
Mission, KS (PRWEB) May 28, 2013
Sharon Weaver, CFP, owner of Mission Financial Planning, spoke at the April 26 - 27 Investment Conference for Dentists which was hosted by a private money manager in Kansas City. Mission Financial Planning, Inc., provides financial planning for dentists across the U.S.; several clients of Mission Financial Planning were also in the audience.
Weaver spoke to the dentists about creating a sustainable income stream in retirement. The presentation explored the commonly accepted 4% rule of thumb for retirement withdrawals, and emerging concerns regarding its validity going forward. Weaver presented a list of criteria for determining whether investments are appropriate for retirement, and presented strategies for those who might not have saved enough to live on "income only".
Weaver also presented a pre-conference seminar for recent graduates and young professionals, titled "Life Stages of Financial Planning."
Weaver discussed the life stages participants might expect to experience, and how they could anticipate and plan for the future. Weaver categorized life's decades, talking about the different needs that come with different ages, and stages of life.
"It's so easy to put off decisions, or put off getting started. The incredible advantage of starting early cannot be overstated," Weaver emphasized.
Included in her presentation were common mistakes to avoid, and some basic building blocks for understanding and creating a financial plan. Participants heard ideas for budgets that work in real life, tips for sticking to a budget, and the special considerations of budgeting for couples.
When addressing debt, Weaver quoted from the book "Why We Want You To Be Rich", saying "10% of the borrowers in the world use debt to get richer – 90% use debt to get poorer." She discussed "good" and bad debt, how to dig out of having significant debt, and encouraged listeners to accumulate some savings in a "don't go into debt" account.
Weaver also presented "Investing 101", making sure the audience knew the basics about stocks and bonds, and mutual funds. She encouraged beginning investors to take an active role in understanding their own risk tolerance and defining short and long term goals for their investments.
Other topics included the appropriate uses of insurance to avoid being over- or under-insured, and the importance of estate planning – outlining what a person wants to happen when they die. Although far from most 20- or 30-year olds' concerns, there are some simple "first steps" that were recommended.
Mission Financial does not sell investments or insurance, and does not have any ties with providers; there are no "minimums" that have to be met to work with the firm. The firm can work with clients who already use money managers or will provide financial planning for do-it-yourself investors.
Mission Financial Planning is a fee-only financial advisory firm that creates and monitors financial plans for dentists across the U.S. The firm takes a comprehensive approach, consulting on personal and small practice financial planning. For more information call 913-948-9694 or visit http://www.missionfinancialplanning.com.