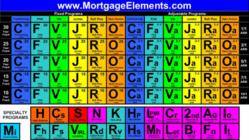 Bloomingdale, IL (PRWEB) May 29, 2013
Start up Mortgage Elements Inc. recently launched a new website with a unique design that optimizes touch screen technology. Due to the rapid growth of tablet computers, iPads, and other mobile devices, http://www.MortgageElements.com was designed specifically with touch screen technology in mind. The intuitive design and simple graphics are designed to work equally well across all screen sizes from Smart Phones to Desktop computers.
Mortgage Elements was founded to help Mortgage Professionals quickly locate specific and relevant mortgage information. Founder Mark Paoletti—realizing the potential of Touch Screen Technology and its potential for the Wholesale Mortgage Industry—set out to design a website around this technology for use across several screen sizes and devices. Paoletti believes touch screen technology requires a different design approach that intensely focuses on simplicity to create an intuitive user experience. "The focus on simplicity can totally change the user experience, and that experience on a mobile device is very different than on a desktop or laptop computer," said Mark Paoletti.
The design incorporates the use of symbols rather than words. This was a natural evolution of the design process because of the constraint imposed by smaller screens. It also takes advantage of the way people intuitively respond to images more than to text. The result is something most people don't expect but would recognize if they ever took a chemistry class – a Periodic Table for the Mortgage Industry.
With some modification, symbols for chemical elements were replaced with symbols for different mortgage programs and amortizations creating – Mortgage Elements. Mortgage Elements is not only an effective interface for accessing mortgage information via mobile devices but also a tool for organizing and categorizing information in the Mortgage Industry. Since the simple design requires less data, the site also has a technical advantage as it facilitates faster page loading over 3G and 4G networks.
Mobile technology is still new and its rapid growth caught many industries off guard. This is especially true for the Mortgage Business where innovation is slow due to its stringent regulatory and compliance environment. "As far as I know, we could be the first Mortgage Website designed specifically for touch screen technology and mobile devices in the Wholesale Mortgage Industry".
Adapting a 150-year old concept from Chemistry to apply to the Mortgage Industry may surprise Mortgage Professionals but it shouldn't come as a surprise to design professionals. Many solutions to an industry's problems can come from unexpected sources. To see an example of how ideas in one industry can provide solutions for another totally unrelated industry, or see what Mortgage Brokers have in common with Chemists, go to http://www.MortgageElements.com.
About Mortgage Elements Inc.
Mortgage Elements Inc. is an Internet Marketing company that provides marketing, database, and search options for the Mortgage Industry through its website MortgageElements.com. The Company uses a unique website design optimized for touch screen technology and use on mobile devices, desktop, and laptop computers. Mortgage Elements is a B2B company for the Mortgage Industry and not a lender.
Contact Information
Mark Paoletti – Founder / President
Mortgage Elements Inc.
630-529-3755
http://www.MortgageElements.com